This post may contain affiliate links. Read my disclosure policy here.
We may look green in the video, but we had a blast video chatting with Kelly Ripa… and it was for a good cause.
You see, Kelly Ripa has joined forces with Electrolux to raise funds for the Ovarian Cancer Research Fund (OCRF). And she's getting back to fundraising basics with… Lemonade Stands!
Well, there is a modern twist — they're virtual.
Confused?
Let Kelly explain…
Janice and I love seeing companies partner with charities to create fun, feel good promotions where everyone wins.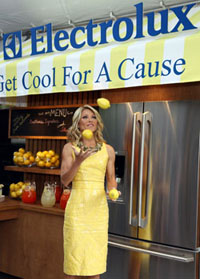 And this virtual lemonade stand campaign is a great way for you to support OCRF and have a chance to win your dream fridge! (I sure wish I had one… my sad old fridge turns my berries into ice blocks and sours my milk before the due date.)
You can set up your own virtual lemonade stand — if you're an American — or you can shop at a friend's stand. Since Janice and I are secretly Canadians, we can't set up our own stand, but we can still donate through our good friend Gabrielle's.
So once you're laughed at how terrible Janice and I look over skype, then hop over and create your own virtual lemonade stand or stop by Gabrielle's.
(And if any of you know how next time we can ensure skype does not turn us green, we'd love to know. On our webcam quick capture, it didn't look green. But through skype, even in our local playback window, our white background showed up green.)