This post may contain affiliate links. Read my disclosure policy here.
I keep my little girls slathered in sunscreen and covered in UPF rash guards and swimsuits all summer.
Almost the only parts of their little bodies that get exposed to the sun are their hands. (I find their hands especially tricky to protect because I don't want them to rub the sunscreen in their eyes.)
Since I'm such a huge fan of UPF swimwear for kids, I am thrilled to tell you about Land's End Kids' Swimwear with UPF 50 Protection.
For the final week of our month long feature of Land's End, we are focusing on keeping your kids safe while they play in the sun.
It's easy for us to be a bit slack with the sun protection when our kids seem to tan naturally. I know I'm beyond vigilant with sunscreen for my little red head Julia. But even though my Sophia's skin isn't as likely to burn, I still ensure she's always wearing UPF swimwear and strong sunscreen.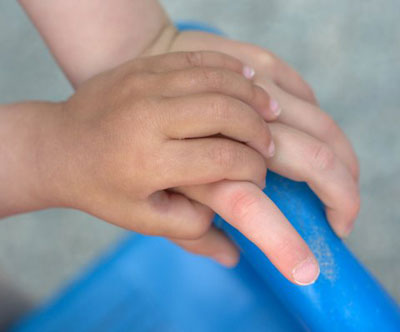 Sophia inherited her Italian grandfather's olive skin that tans as fast as the sun rises. Whereas, Julia's strawberry blonde hair came with sensitive skin that would easily turn pink if left exposed.
We laugh at the differences in the color of their hands… and I can hardly believe that Sophia is my daughter. How I wish I had her skin!
Sophia's skin may not be as sensitive to the sun as Julia's, but it's still my job to protect her skin from the sun's harmful rays.
I love that Land's End is helping us moms by making our jobs a little easier with such affordable and adorable Kids' Swimwear with UPF 50 Protection.
Learn more at our featured Land's End page and enter to win a swim outfit for either a boy or a girl.