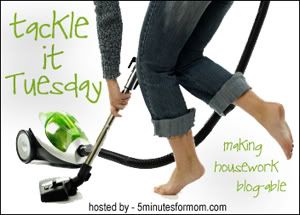 Janice jumping in for a tackle…
Once upon a time, I tackled here weekly.
I started Tackle It Tuesday in 2006 when I realized I could use some blogging incentive to conquer my housework. In the last year, I have had some wonderful women take over my TT hosting duties. I must say, my house is much worse with my absence from Tackle It Tuesday!
Susan has been doing a great job tackling this spring (have you SEEN what she's been up to), but I thought I would jump in this week with what I have been tackling for the last week.
So, what does a baby giraffe have to do with Tackle It Tuesday?
Well, about ten days ago, I had the chance to visit Busch Gardens on my trip to ride the Manta at SeaWorld. You can few a video of me actually riding the Manta here and see some of my pictures from SeaWorld at my Flickr.
BUT, you didn't get the chance to see my fun shots of giraffes, meerkats, lemurs and turtles yet because…
I needed to tackle my laptop!!!
Yes, my laptop was SO jam packed with photos that I couldn't fit one more shot on it! I was able to download my compact flash card, but my computer was so bloated with images, my hard drive could barely function. I didn't dare edit and add one more saved image.
I needed to delete more images. But before I did that, I wanted to get my back up files and external hard drives more organized. Inspired by Carrie's 5 Minutes for Photography post about organizing her photos, I decided to try out Picasa and see how it worked for me for organizing my files.
I downloaded Picasa and tested it out this week. I definitely like it and if you don't have Photoshop or Photoshop elements, than I highly recommend Picasa. It has some good editing tools and is fantastic for viewing, organizing and sharing your photos. (I use Photoshop Elements, and will continue to use it for its editing tools.)
Because I shoot in RAW, I am overwhelmed with thousands of large files. I have already filled up a few external hard drives! And while external hard drives will still be an integral part of my back up system – I need the portability of them – I wanted to get a larger system to house all of my images in one place.
So after playing around with Picasa, I called on Rob, Susan's husband, to help get me some serious back up space! He got me some type of external RAID drive system with TeraBytes of space. I don't even know what it is… all I know is how to copy files over to it.
It's been a hugely time consuming process — and I'm still not done. But I've at least cleared up enough space on my laptop to edit a photo again. (And hopefully later this week I will get my post up with all my fun shots from Busch Gardens!)
Would you like to post as a guest tackler? Submit your guest tackles to be featured here at 5M4M. You can write Susan at tackleittuesday at gmail dot com. Remember, we are here to promote your site!
Each week on Tuesday, we are posting before and after pictures of a project or trouble area that we tackled this week.

Find out more about Tackle It Tuesday here.
The project can be little or big – whatever you want.

Basically, Tackle It Tuesday is about giving ourselves incentive, deadlines and satisfaction in getting our household tasks done.

(It doesn't even have to be housework… just whatever is on your To Do list.)
If you tackled a project this week, just add a comment and add your link below.
Happy tackling ladies…