Sponsored Content
Ultraviolet Protection Factor (UPF) = Unlimited Potential Fun
Lands' End Offers Entire Line of Kids' Swimwear with UPF 50 Protection
Swimsuit coverage takes on new meaning when it comes to sun safety. While sunscreen is effective on skin exposed directly to the sun, skin under swimwear is often ignored.
This season, Lands' End offers their entire kids' swimwear line featuring Ultraviolet Protection Factor (UPF), providing an added layer of defense against the sun's harmful rays. UPF 50 provides 98 percent protection against both UV A and UV B rays. For ultimate protection, parents should pair UPF 50 swimwear with sunscreen.
Lands' End Kids' Swimwear with UPF 50
Clothing with Ultraviolet Protection Factor (UPF) provides kids with sun-shielding protection from harmful rays. Lands' End has incorporated Ultraviolet Protection Factor into all swimwear solutions for boys and girls, even baby. Here are some top picks for parents to consider:
Rash Guards – UPF 50 rash guards offer ultimate protection for boys, girls and babies.Available in both long and short sleeve versions, these trend-right solutions provide sun safety and won't hinder summer fun in the surf or sun.
Sun Hats – Sun hats are a must for kids. Lands' End hats featuring UPF 30 – 50 include the Girls Reversible Sun.Life™ Bucket hat, the Kids Swim hat with a back flap to cover the neck for added protection, and even a Baby Swim Hat with a Velcro chin-strap.
Just for Baby – The tiniest of tots haven't been forgotten when it comes to Ultraviolet Protection Factor at Lands' End.Baby girls will look adorable in the Baby Girls' Swim Diaper Cover and Terry Cover-up Dress, both featuring UPF 50 protection.And bouncing baby boys will be on the move in the Baby Boys' Swim Diaper Cover, Baby Boys' Pieced Swim Trunks and the Ultraviolet T-shirt with screen-printed sea creatures, all with UPF 50 protection.
Cover Ups – Kids can take cover during peak sun exposure with plush 100% cotton French terry cover-ups for girls in a hoodie, skort, shorts and dress.


Character Wraps in butterfly or mermaid can be used as a towel or transformational cover-up.

Extras – Even swim goggles offer protection from the sun. Land's End's new Aqua Sphere® Seal Kid™ Goggles are 100% UV Proof to help protect eyes from harmful rays.
Lands' End UPF Protection
Each Lands' End kids' swimsuit, rash guard and kids' hats contains UPF 30 – 50 sun protection along with quick-dry, snag-resistant and fade-resistant features. The UPF rating is guaranteed to last the life of the Lands' End garment, even after extensive washing and exposure to sun and chlorine.
THIS WEEK'S EXCLUSIVE GIVEAWAY FOR 5 MINUTES FOR MOM READERS
To make sure your kids are sun protected, this week Lands' End is offering one girls and one boys swim outfit – both UPF protected.
Land's End offered the chance for one reader to win the Girls Scrunchback Tankini and another reader to win the Boys Tie-dye Rash Guard Shirt and the Boys' Cargo Board Shorts.
We drew random winners from comment numbers between 1123 and 1203 and…
The Winners are …
# 1159 Elli (@yahoo.com)
# 1163 Jessica T (@hotmail.com)
TWITTER PRIZES
This is the last week of our impromptu Land's End giveaways on Twitter. Follow us @5minutesformom and watch for hashtag #LandsEnd. We have a few more of these prizes left…
Thanks to Lands' End, we will be selecting 10 lucky winners.
5 winners of a Reversible Bamboo Handel tote in the Pistachio Paisley Print
5 winners of a Straw Floppy Hats in Spice Brown
We've already had some winners, but more are to come…
2009 Swimwear Trends:
Inspirations From Around the World
From the sunny beaches of California to the beachside markets of Capri, Italy, this season's swimwear trends have gone global. Rachel Zalis, contributing editor of Life & Style magazine is working with Lands' End to offer up the latest globally-inspired trends in the best looking, fitting and flattering swimsuits of 2009.
ANOTHER WINNER
Lands' End offered the chance to win a swim package that includes Women's Aquaterra Rash Guard Shirt, the Aquaterra Surfer Bikini, and the Beach Roll-up Mat.
We drew a random winner from comment numbers between 989 and1122 and…
The Winner Is…
#1023 – Stacie
Search for Swimsuits on The Island!
Don't forget to visit The Island from Land's End at www.landsend.com/getaway. The site offers a fun and interactive new way to experience swimsuit shopping online with the sound of waves, images of cabanas and flowing waterfalls transporting visitors to a private island getaway.
And don't forget that there's only a few days left to enter the sweepstakes! Lands' End has partnered with The Crane Resort and the Barbados Tourism Authority to give one lucky winner and three friends the ultimate island getaway vacation. Daily sweepstakes entries will be accepted at www.landsend.com/getaway ending midnight (CST) on May 31, 2009.
Slenderizing Zone:
Lands' End Slenderizing Swimsuits
OK ladies, it's time for swimsuit shopping again – definitely not a task anyone enjoys. We all have those areas of concern, also known as "anxiety zones," but Lands' End wants to change that and make sure you feel fabulous in your swimsuit. This year, Lands' End is offering new slenderizing suits with revolutionary fabrics that help to smooth, lift, shape and control all your problem areas.
There are three different collections – SwimShape, TrimLine and BodyLift – so you can choose the level of slenderization that works best for you.
Level One – SwimShape
The new Lands' End SwimShape line of swimsuits offers targeted shaping and smoothing. The collection of elegant, understated swimsuits features an exclusive silicone fabric treatment that spot lifts and controls for a flattering fit and comfortable feel.
SwimShape standouts include: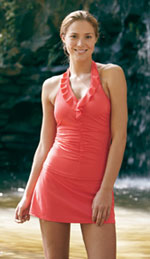 Level Two – TrimLine
If you are looking for instant tummy toning, try the Lands' End TrimLine collection.
TrimLine conceals and flatters right where it matters most – the control lining smoothes and flattens the tummy while shirring or draping visually conceals figure flaws.
A little torso control can inspire a lot of confidence.
TrimLine standouts include: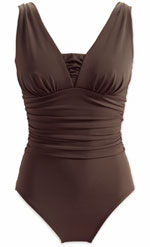 Level Three – BodyLift
The new BodyLift collection is an all-over control solution with Slender Suit® technology.
The fabric delivers slimming power that fits snugly, yet feels comfortable in and out of the water. BodyLift swim styles are available in a variety of colors and patterns in a full range of regular, petite, long torso and plus sizes, in 6-18 and 16W-26W.
BodyLift swim style standouts include:
GIVEAWAY WINNERS
To celebrate the launch of the new slenderizing suits Lands' End sponsored an exclusive giveaway for 5 Minutes for Mom readers, offering three lucky readers the opportunity to win a slenderizing suit from Lands' End.
Entrants, left a comment at the bottom of this page telling us which of the 6 styles they would choose. We drew three random winners from this week's comments (comment numbers between #625 and #989).
The winners are:
#811 – Dezi Allen
#978 – Linda M
#775 – Barb
WIN AN ISLAND GETAWAY

If the virtual island isn't enough perhaps you are looking for a trip to a real island getaway. Lands' End is doing just that by offering a trip for four to Barbados. Visitors can enter daily for a chance to win at www.landsend.com/getaway beginning on May 4th and ending midnight (CST) on May 31, 2009.
Lands' End has partnered with The Crane Resort and the Barbados Tourism Authority, to provide a five-night vacation for four people to luxurious Crane Resort in Barbados, set on the world-famous Crane Beach.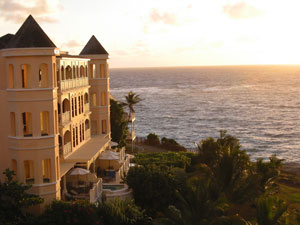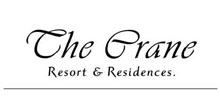 The Barbados Tourism Authority is also providing surf lessons, a private walking tour of historical Bridgetown with a local historian, a visit to the George Washington House, the only place outside the United States where the president slept, and more. The prize package includes a Lands' End Swimwear package for four, round-trip airfare and transportation, and meals. The official contest rules and entry form can also be found at www.landsend.com/getaway.
May 12, 2009
Lands' End Launches The Island
With summer right around the corner and the rainy days of spring coming to an end, one can't help but fantasize about a tropical getaway. With Lands' End's help, you can experience an island vacation without leaving home!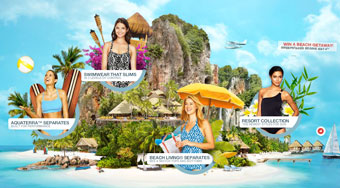 Lands' End has launched The Island at www.landsend.com/getaway, transporting you to a private island getaway where you can shop for Lands' End swimsuit styles, enter an exciting sweepstakes and share the experience with friends.
SWIMWEAR COLLECTION
While visiting The Island, you can scroll through the multiple Lands' End swimwear collections in a fashion show runway format and view entire swimsuit collections with a single click, which includes Beach Living, AquaTerra, Slenderizers and the Resort swim pieces. You can even zoom in to see the details of each suit, and front and back views.
Share your latest finds by using Facebook, Twitter, MySpace, Digg and Email. All you have to do to share the images on the screen is simply select the "Share" tab and the preferred social network.
GIVEAWAY WINNER
To celebrate the launch of The Island, during the week of May 12 – 19, Lands' End sponsored an exclusive giveaway for 5 Minutes for Mom readers and offered one lucky reader the following:
Navy Sand Chair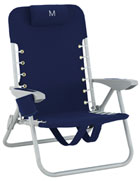 This backpack sand chair is easy to take to your favorite summer events and is built with convenient backpack straps. (retail value: $44.50)
Built with convenient backpack straps
Low to the ground profile prevents tipping
With four recline positions for adjustable comfort
Includes cup holder and pillow
Pocket in back holds a folded towel
Rust-proof aluminum frame
Navy Cooler Tote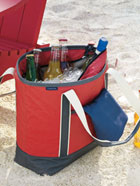 This easy to clean and carry insulated cooler keeps snacks and drinks chilled during those hot summer days. (retail value: $45.00)
Insulated to keep snacks and drinks chilled
Waterproof and stain-resistant — inside and out
Heat-sealed seams won't leak
Durable cotton canvas with PEVA coating
The Winner Is…
Comment #234
Rachel from Grasping for Objectivity
Don't worry if you didn't win this time…
This week we're giving away the two children's suits listed above. To win this week's prize, please leave a comment telling us… if you remember… how old you were when you first went to a beach. In your comment please also tell us if you won, whether you'd want the boy's outfit or the girl's.
We'll draw a new winner from the comment numbers greater than 1122 and announce the winner next week.