This post may contain affiliate links. Read my disclosure policy here.
I am so excited about this baby carrier!!!
What is it??? It is an iHosa Chunei.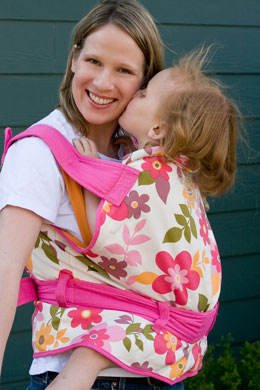 Chunei, pronounced chu-nae, is a modernized podaegi, (a traditional Korean baby carrier.)
UPDATE: Unfortunately the iHosa Chunei carrier is no longer available and their website is not active anymore.
In a Chunei, you can wear your baby in a front carrying position or a back carrying position, with the baby's weight evenly distributed throughout your torso and your hips. The Chunei is suitable for babies from 2-3 months, (when they are able to support their heads,) to children about 3 years old or around 35 pounds.
Here is Susan carrying four year old Julia (who weighs 31 pounds.) It is perfect for "big kids" who want to be carried for some extra cuddle time.
The Korean brand, iHosa, is the best selling Chunei in Korea. And after testing one out myself, I understand why!
The craftsmanship and quality of the iHosa is incredible!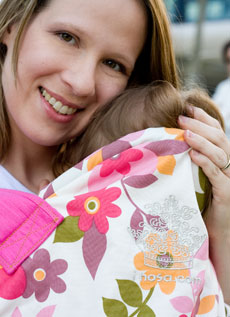 The fabric is 100% cotton and very durable. The stitching and construction of the carrier is perfect! Honestly, for the amount of work that must go into each carrier, I am surprised by the reasonable price. HosaUsa.com has Chuneis from $99-$119.
Wearing Olivia in my Chunei is comfortable and easy! I love that her weight is evenly distributed and is not pulling on my shoulders.
My carrier came with a seat insert, that makes me feel extra confident that she is not going to slip out of position. But I am sure that even without the seat insert, Olivia wouldn't be going anywhere!
And perhaps the BEST part for me is how EASY it is to put on!
Once you have adjusted the clips to your size, you just slip it on and do up the velcro and clips. It is as simple as putting on a coat. (There is one top shoulder clip that you may need another person to clip for you if you are carrying the baby in a front position. However, it doesn't seem to be essential for that clip to be done up. I think it just is for extra comfort.)
I found the iHosa carrier when I was searching on YouTube for instructions on wearing my Mei Tai.
I wore Olivia in a wrap from birth until she was almost one, but last fall I wanted to move her to my Mei Tai. When I went online for extra help to make sure I was using the Mei Tai correctly, I found the iHosa and I was so intrigued!
My only wish is that I found it a bit earlier, since now Olivia is such an active little girl, she rarely wants to be carried anymore. (sigh… she used to take naps everyday in her wrap… it was so wonderful.)
This post was written by 5 Minutes for Mom co-founder, Janice Croze.