This post may contain affiliate links. Read my disclosure policy here.


Tonight,Thursday, May 7th, National Mom's Nite Out! Where are YOU celebrating?
There are LIVE parties all over the country, both local and virtual. So whether you are in the mood to get out of the house, or whether you are partying at home in your jammies, there is a place for you to celebrate motherhood.
National Mom's Nite Out is the first nationally organized celebration of motherhood. Intended to bring together today's moms, physically and virtually, National Mom's Nite Out will unite over 150 social media groups, companies, local playgroups, mommy bloggers and mother social networks in giving moms a well deserved night off.
Here at 5 Minutes for Mom, we are partying on Twitter. And in 5m4m style, we want to make sure you all are connecting with one another!
So, leave your TWITTER HANDLE in the Mr. Linky below and then head over to Twitter and follow the hashtag #MNO-09. (When adding your Twitter name, please make sure you leave your handle (example: @janicecroze) as your name and the url to your account, in the space for the url, (example: http://twitter.com/janicecroze)
Yes, we want to make sure ALL of you #MNO-09 partiers, whether you are at a local event, a virtual event, or you are partying on Twitter, can find each other and start following one another.
So head over to Mom's Nite Out, and check out the local events and the virtual events to find out where you want to party.

AND make sure you join us on Twitter (hashtag #MNO-09) and post your Twitter handles here at www.5minutesformom.com.
And of course we have prizes!!!
We will draw one Grand Prize winner from the Mr. Linky of Twitter names.
And we will draw the second Grand Prize from the participating tweets that use the hashtag, #MNO-09.
We will award the ten Door Prizes over on Twitter and different times during the party, between 3pmEST and 11:59pmEST. So head over to Twitter and follow the hashtag #MNO-09. We will be tweeting from @5minutesformom, as well as our personal accounts, @janicecroze and @susancarraretto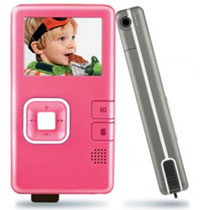 TWO GRAND PRIZES: Each grand prize winner will receive a Creative Vado Video Camera in Pink, courtesy of New Baby.com.
This lightweight digital camcorder makes recording great video clips fun and easy. Sharing videos online is simple too with built-in software that helps you post videos to YouTube, Photobucket or Box.net. Take Vado Pocket Video Cam with you everywhere you go and never miss a moment.
TEN DOOR PRIZES: Ten lucky partiers will win a SanDisk Ultra II SDHC card to capture stills and video on their point and shoot cameras!
(You can follow Sandisk on Twitter too. Their Twitter handle is @sandisk.)
If speed is your thing the SanDisk Ultra II SDHC is the card for you. Custom designed for today's serious photographers, this high capacity card makes transferring data from digital camera to your PC a breeze. Shoot wherever you want, the rugged design can take it. In fact, we're so sure the it will match you shot-for-shot each and every time you get a limited lifetime warranty*.
We hope you have a fabulous Mom's Nite Out!!! See you on Twitter…
Note: Leave your TWITTER HANDLE in the Mr. Linky below and then head over to Twitter and follow the hashtag #MNO-09. (When adding your Twitter name, please make sure you leave your handle (example: @janicecroze) as your name and the url to your account, in the space for the url, (example: http://twitter.com/janicecroze) I have added our twitter handles as examples and so you can easily find us to follow us, if you choose. But of course, we are not eligible to win the prizes. LOL