This post may contain affiliate links. Read my disclosure policy here.



Moms, our children grow up fast!!!! Our photos and videos will be the memories we have of our children at every stage of their lives, from their first steps, to their first day of high school.
Why not capture those moments with a Kodak EASYSHARE M380 Digital Camera?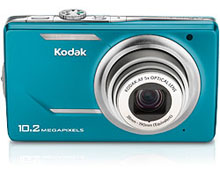 I must tell you, that I am IN LOVE with this camera. It is small, lightweight and VERY user friendly. Its smart capture feature automatically senses the surroundings and selects the best setting for my photo.
I am also able to select various options for my photos, from candle light to a bright beach scene. There is even a Manner/Museum option for times when sound and flash are not appropriate.
I have been genuinely pleased with the quality of the photos and videos that I have captured with my Kodak EASYSHARE M380 Digital Camera.
Here is a look at some of the camera's wonderful features:
Amazing quality prints with 10.2 MP
– 10.2 MP means you can make stunning prints up to 30 × 40 in. (76 × 102 cm)
– More megapixels means you can crop and still get a great picture.
5X optical zoom lens
– 5X optical zoom (35 mm equivalent: 38–190 mm) gets you closer to your subjects without reducing image quality.
Blur reduction
– The camera automatically minimizes the effects of camera shake to deliver a clearer picture
Beautiful pictures, more often—automatically
– Kodak's innovative Smart Capture feature adjusts camera settings for great pictures in just about any environment—automatically.
Face detection
– For great shots of friends and family, face detection locates faces and automatically adjusts camera settings.
High ISO
– Capture the details in low light conditions and fast action situations with high ISO (up to 1600)
This Mother's Day, why not treat yourself to a camera that will help to create lasting memories. It retails at $179.95, a great price for a great gift that keeps on giving.
Of course, we'd like to make this Mother's Day extra special for one of our readers. You can win a Kodak EASYSHARE M380 Digital Camera in your choice of red, purple, teal or black. Mine is teal, and I find it so bright and cheery. Just looking at it makes me happy.

Here's how you can win:
Leave a comment on this post. This giveaway is open to US shipping addresses.
Either link back to our Mother's Day Giveaway 2009 post and include a "Mother's Day 2009 Giveaway" button in that post or on your sidebar or link to this post.
As always, non bloggers are welcome to participate. We understand you can't link, but please spread the word to your friends!
Additional entries can be earned by Subscribing to our Feed, Signing up for our Newsletter, or spreading the word via Facebook, Twitter, email, etc.
Please visit our Mother's Day Giveaway 2009 post and our site's Terms and Conditions of Use for a complete list of our contest and giveaway rules.
This post was written by 5 Minutes for Mom contributing editor, Erica Stall.