This post may contain affiliate links. Read my disclosure policy here.
Whether you are looking for a Meatless Monday meal, or need a gluten free option, zucchini noodles, often called zoodles, are a quick and healthy choice.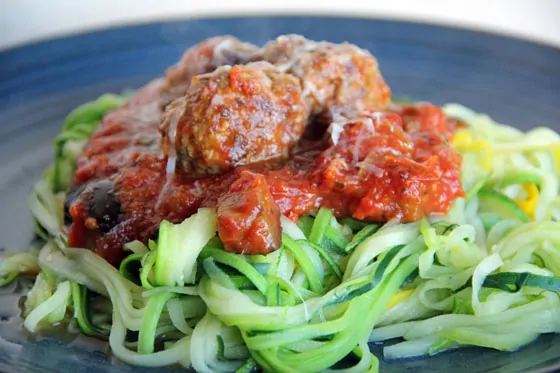 Now, I should disclose that I am swimming in zucchini from my garden so I was looking for a new way to use my abundant harvest. I made the mistake of planting 5 zucchini plants. I know. What was I thinking? Even if you're not overrun with these prolific squash, chances are you have a neighbor or friend who is or can find them easily at your local farmer's market.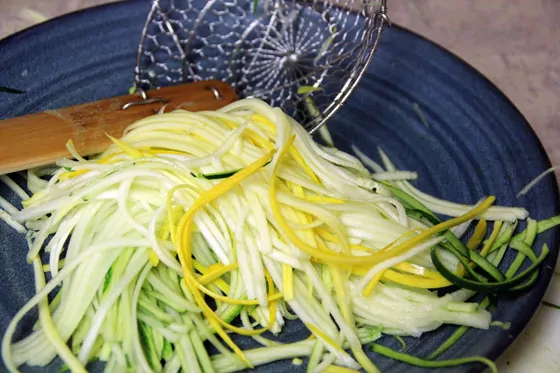 I made zucchini noodles last year on my mandoline and it was less than ideal. A mandoline is rigid and very sharp and the squash are not perfectly straight.  The trick to making these zoodles easier is a hand peeler. I recently found a Swissmar Julienne peeler that slices these perfectly. I love how fast this zoodle recipe is ready. After a little practice with the hand peeler I can now have these ready faster than my old 11-minute box of pasta.
After cooking the 'noodles' or 'zoodles', they have a similar texture to traditional spaghetti. The flavor is mild so you might not even notice the substitute. Even my kids love them now.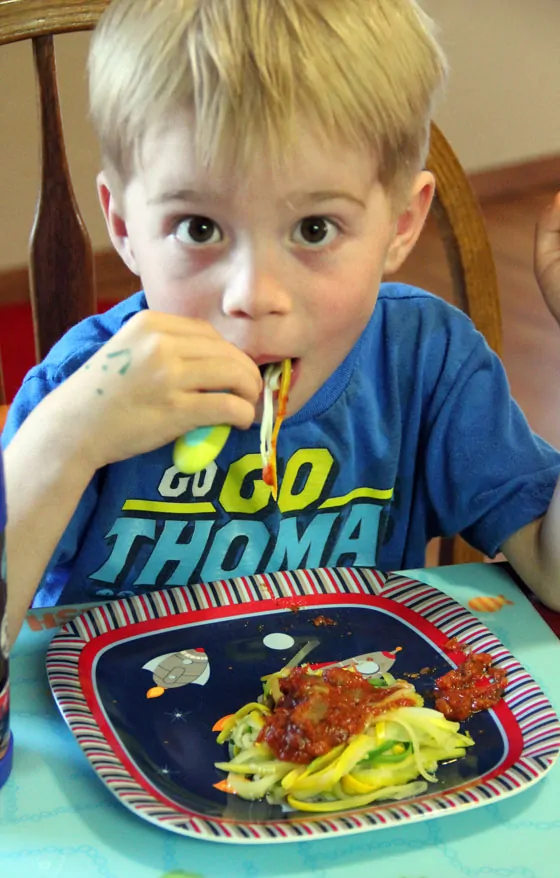 Frugal, healthy and fast, just top these zoodles with your favorite pasta sauce and dinner is ready to go. In our house it is a toss up between whether traditional marinara sauce and meatballs or peanut sauce and chicken is our favorite for topping the squash. Add in both green and yellow squash or carrot for an even more colorful plate of 'pasta'.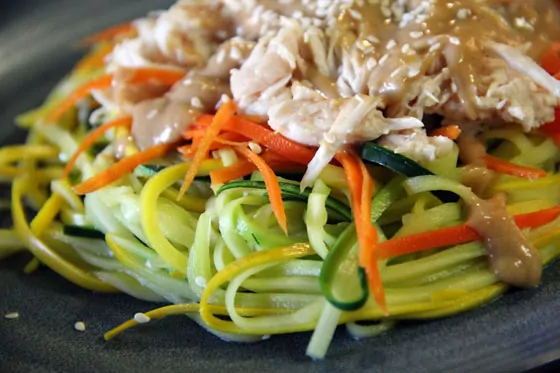 I want to know, what will you top your zucchini noodles (zoodles) with?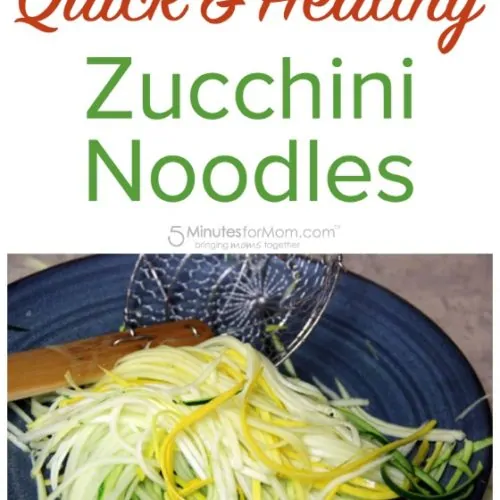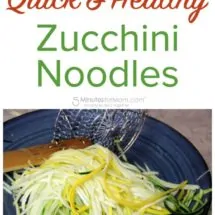 Quick and Healthy Zucchini Noodles - Zoodles Recipe
These are a great option for Meatless Monday, vegetarian, vegan or a quick gluten free dish.
Print
Pin
Rate
Servings: 4
Ingredients
4 large Zucchini or Summer Squash
pinch of Salt
Favorite pasta sauce
Instructions
Wash and cut off the ends of the zucchini.

With a hand peeler, go down the length of the squash. Rotate around the zucchini until you start to see the seeds. Discard the core.

Bring a stockpot of water up to boil. Add a pinch of salt.

Blanch the squash for 3 minutes. Shock it in cold running water or a bowl of ice water to stop the cooking process.

Drain the squash completely and top with your family's favorite sauce.
Pin it for Later