This post may contain affiliate links. Read my disclosure policy here.
So, you have made the decision: You and your family are going to Walt Disney World!!!
You are straight up giddy with excitement — this is a dream trip for you and your kids. But when you pull out the calendar to map out what days your dreams will actually come true, you are a bit stumped.
When should you go? What is the best time of year to travel to Disney World?
Summer would be nice because the kids are out of school… but, this is Florida we are talking about. Will it be too hot? What about the crowds?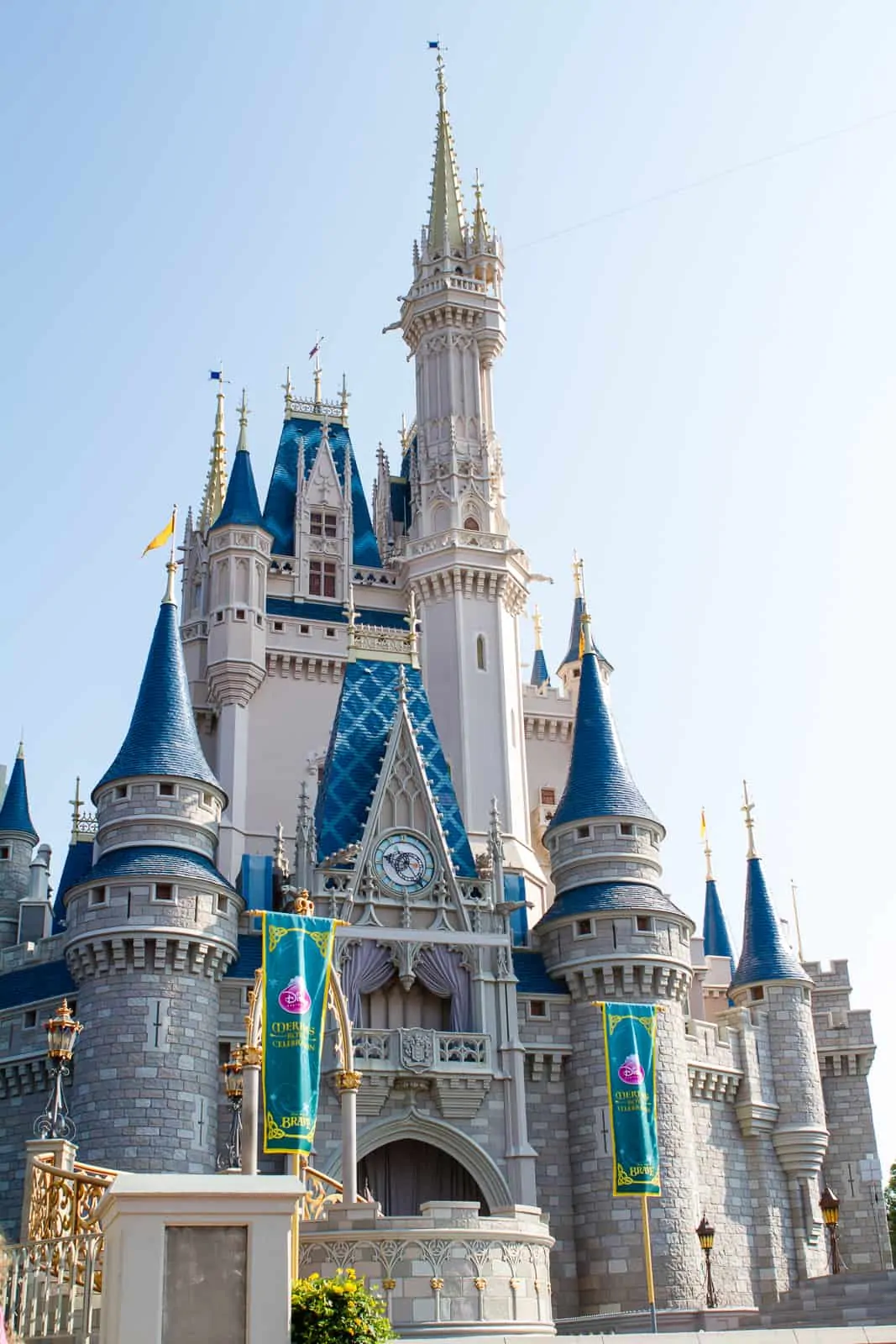 Best Time To Go To Disney World
Here are some things to consider as you make the big Disney trip scheduling decisions.
1. Weather
Sunshine makes us all happier. It is the background of a perfect day. Except of course, if it is also 100% humidity and 100 degrees.
I have visited Disney World in July, and it is still a magical, wonderful experience. Don't get me wrong. This is Disney. It is hard to complain any time of year.
BUT, I have also done Disney World in January, February, and May. And I must say, I enjoyed the weather a lot better when it wasn't so hot and humid.
And don't forget the thunderstorms. With those hot, humid Florida summers, come afternoon thunderstorms and rain. Again, not the end of the world, but it can dampen the day.
I haven't had the chance to visit during the fall, so I can't speak to the fall weather personally, but I have heard that from September on is lovely. (September of course is still quite humid with chance of thunderstorms.)
However, if the water parks are in your plans, remember that it can actually be quite cold in January and February. We have worn winter coats and fleeces on some winter trips! So, don't count on it to be hot enough in January for water play.
2. Crowds
Heat and thunderstorms aside, summer is the most popular time for families to get away. So, the crowds in Disney World are their biggest during the summer school break.
More crowds mean longer lines. And longer lines IN the heat. Yes — not the best combination.
IF you must go during the summer, make sure you take advantage of Extra Magic Hours offered exclusively to Disney Resort guests. These extended park hours for Disney Resort guests allow you time to take advantage of Disney World early in the morning or later in the evening, when it is cooler and the park is only open to Disney Resort guests.
Extra Magic Hours is a brilliant idea — one of the most important reasons to make sure you stay at an official Walt Disney World Resort.
While at the parks, you can check line waits and extended hours for the most popular rides on your smartphone.
Other crowd concerns to watch out for are special events like the Walt Disney World Marathon Weekend, etc. Make sure to check the Special Events page if you want to avoid the extra crowds these events bring.
Also, be sure to check out our Top 10 Ways to Avoid Tantrums at Disney Parks.

3. Specials, Discounts, and Value Season
Walt Disney World offers different specials and discounts to their guests, from returning guest incentives to "value season."
To learn more tricks from Disney vacationing pro's, check out the Moms Panel, where you can ask questions and find information in their fantastic forum, such as this tip from Deborah:
"My absolute favorite time to visit Disney is from mid-January through mid-February – from just after Marathon Weekend until just before President's Day weekend starts.
With most children back in school just after Winter Breaks, crowds are much lighter than average and the weather is picture-perfect. The average low temperature is around 50F, while the highs tend to top out, on average, at around 70F.
That time of the year is considered "Value Season" at Walt Disney World, and Resort rooms can be had at great discounts. The free Disney Dining Plan is occasionally offered in January (2011 and 2012 saw that promotion made available to Guests!), and that, combined with lower room rates, can make for a very tempting vacation time. Watch the Disney Parks Blog for the most up-to-date information on those specials!"
4. Special Events
What is the Best Time of Year for Your Trip to Disney World?Crowded or not, Walt Disney World puts on some incredible special events that you and your family may not want to miss. Personally, I hope to take my family one day to experience the holiday season at a Disney Park.
So, definitely check out the Special Events page to see if you want to time your vacation to coincide with these extra special occasions at the Disney Parks.
No matter when you do plan to visit, the Disney Parks will not disappoint. I have been many times to all of the Disney Parks and I love them rain, shine, humid, or hot! I don't even mind the crowds. Because, really, it is Disney baby!
If you found this post helpful, we would love it if you gave it a Stumble, Tweet, Pin, or Facebook Like. Thanks so much! We really appreciate your support of 5 Minutes for Mom.
Written by Janice Croze, co-founder of 5 Minutes for Mom.
We want to get to know you better — Tweet with us: @5minutesformom, find us on Facebook: Facebook.com/5minutesformom, or join our newsletter list.
Readers' Favorites
Be sure to check out these posts…