This post may contain affiliate links. Read my disclosure policy here.
…When You're Four Years Old
Step 1
Scoop a few spoonfuls of butter in a bowl – do not measure
Step 2
Dump all the marshmallows in the house in with the butter – do not measure
Step 3
Watch the marshmallows balloon up in the microwave
Step 4
Rub butter all over hands and glass baking dish
Step 5
Pour Rice Krispies into melted marshmallows and butter until Mom makes you stop
Step 6
Stir, stir, stir
Step 7
With hands, drop mixture into baking dish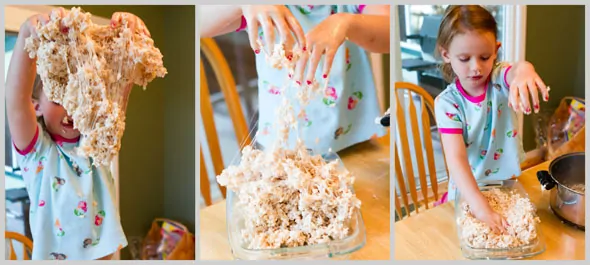 Step 8
Do not allow to cool, eat immediately, by the handful.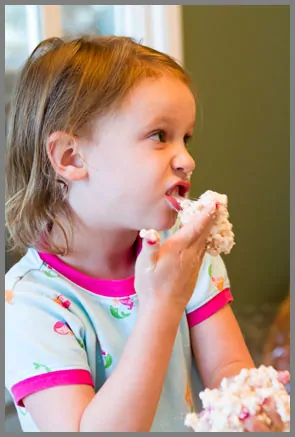 Note: This recipe is not endorsed by or related in any way to the Kellogg's company. If looking for the "grown up" version of Rice Krispies Treats, you can find that on their site.
If you liked this post, we would love it if you gave it a Stumble, Tweet, Pin, or Facebook Like. Thanks so much! We really appreciate your support of 5 Minutes for Mom.
Written by Janice Croze, co-founder of 5 Minutes for Mom.
We want to get to know you better — Tweet with us: @5minutesformom, find us on Facebook: Facebook.com/5minutesformom, or join our newsletter list.