This post may contain affiliate links. Read my disclosure policy here.
I can hardly believe it's already that time of year again, but, my kids started back to school last week. Our youngest reached a milestone of sorts – he's officially a middle-schooler!
Where we live, starting middle school means taking on a little more responsibility and becoming more independent. It also means wearing uniforms to school. The elementary and high school students do not wear uniforms, but it is a policy that's in place at our middle school. The kids don't seem to mind and I have to say, it certainly makes getting ready in the mornings quick and easy.
When it comes to school uniforms for my kids, I look for two things. First, they must be comfortable. This is a must since they will be worn every single school day. I want my child to be relaxed and at ease at school. Nice comfy clothing is key to helping make his day go well. Second, the uniforms must be of high quality and durability. Because the uniform items will be worn so frequently, that also means they will be laundered frequently. They need to hold up well and look good wash after wash.
Lands' End is a great source for school uniforms for kids. They offer a variety of styles and colors and a guarantee that allows you to return any item at any time if you are not satisfied.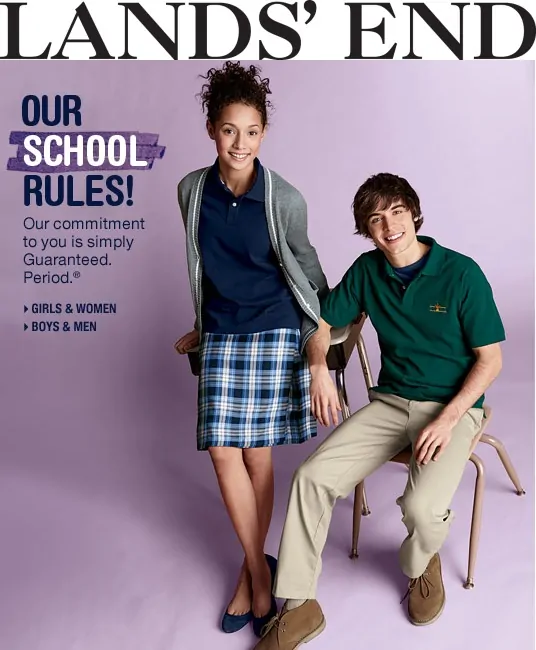 We were able to try out a Lands' End top and bottom for my son. Our uniform policy allows khaki or black pants and polo shirts in any shade of blue or white. So, we tested out the Lands' End Plain Front pants in khaki and the Short Sleeve Solid Performance Interlock Polo shirt in navy.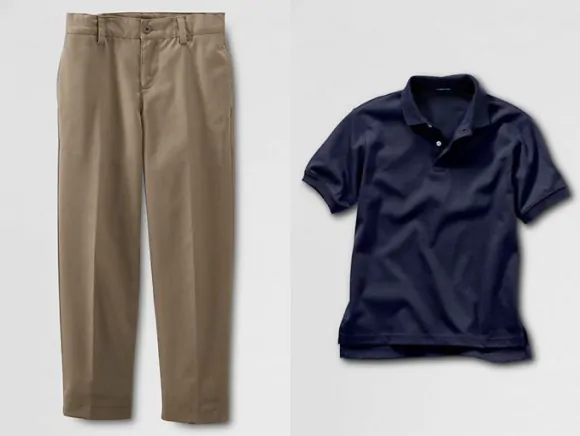 I'm impressed with the quality of the clothing and my son told me that they are very comfortable to wear. He looked so handsome and grown up!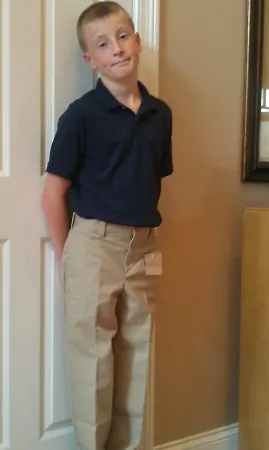 Some of the features of the Lands' End uniforms that I really like:
the pants are reinforced with Iron Knees for extra durability – just what boys need!
the pants are made of 100% cotton fabric that is stain and wrinkle resistant
adjustable tabs inside the pants allow for better fit
polo shirt fabric is super soft
polo shirt will not shrink, pill or fade and holds up wash after wash
Lands' End has always been a brand I trust and so it's no surprise that they make great, quality school uniforms for kids. If you are going to be shopping for school uniforms this year, I highly recommend you check out Lands' End. Their school uniform items are available for purchase year-round and with their selection of colors, sizes, and styles, you're sure to find just what you need.
Lands' End provided me with a free uniform to facilitate this review as well as compensation for my time. I was not obligated to write a positive review and all opinions expressed are 100% my own.