This post may contain affiliate links. Read my disclosure policy here.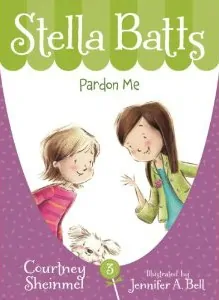 Third grader Stella Batts has completely charmed my children. We've read the first two chapter books in the new series from Sleeping Bear Press, and when number three found its way to my house, my six year old daughter squealed with delight, for she has had so much fun spending time with this character. She wasn't disappointed in the third installment, Stella Batts: Pardon Me, once again feeling a strong connection to this delightful literary character.
What do you need to know about Stella? Well, in her first book, Stella Batts: Needs a New Name, young readers discover that Stella loves to write, and in fact, the books are her very own autobiographies! With Stella as the storyteller, kids quickly come to like her, for she's funny and realistic. She has a little sister with whom she bickers, especially when she copies her (which seems like all the time, at least to Stella). But in that first book, she has a problem– her name. Thanks to a terrible nickname that a mean classmate has given her, Stella hatches a plan to change her name, but she doesn't anticipate all the confusion that ensues.
By book two, Stella Batts: Hair Today, Gone Tomorrow, the name issue is finally cleared up, but she's got an even bigger problem on her hands. Well, in her hair, actually. Did I forget to tell you that Stella's parents own a candy store in town? And that she and her sister Penny get to sample new products sometimes? It's definitely a sweet situation to be in, until a piece of candy causes Stella to have some serious hair problems. I can tell you that my daughter was so invested in this story when we read it over the course of a week– she couldn't stop wondering what was going to happen to Stella!
As book three opens, readers are reminded of another sad happening from the previous installment. Stella's best friend Willa has moved away, all the way across the country, in fact. Stella Batts: Pardon Me introduces a new character, one who speaks with an English accent (that most folks will be able to feign better than I could!) and who uses many words and phrases that cause simple misunderstandings (that are actually quite fun to read about and explain!). Stella is struggling with the absence of her friend Willa, and she's not even sure that they are still friends when Willa doesn't want to take her phone call. Starting a friendship with someone new can also be tricky, as Stella soon finds as Evie joins her class. As in the previous two books, by the end of ten chapters, Stella has found resolution to the problems at hand, and this time around, Stella learns that friendship is something you can never have too much of. Each book also includes a sneak preview of the next installment, so my kids are already excited for book four: Stella Batts: A Case of the Meanies, to be published early next month.
For newly independent readers, the Stella Batts series offers some fun stories with simple but relatable conflicts, believable young characters, and engaging sketch-like illustrations by Jennifer A. Bell scattered throughout each chapter. I've enjoyed reading these aloud with my six and four year old children, for each chapter is the perfect length for bedtime reading, and my daughter has joyfully re-read them on her own again after we finished.