This post may contain affiliate links. Read my disclosure policy here.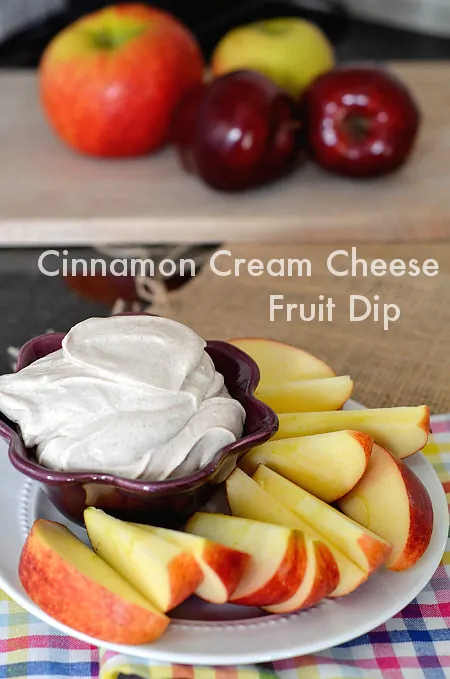 If you'd paid attention to Twitter, Facebook, store ads and commercials, you know what time it is:
BACK TO SCHOOL
!
With two kids who will be "school kids" this year,  I have been trying to get ready with school clothes, sturdy backpacks, and (of course) a go-to list of school lunch ideas and after-school snacks.
As I started thinking about school and the coming fall season, my mind naturally drifted to apples and cinnamon.  Of all fruits and spices, those are the two that just scream autumnal school days to me.
(and, since I'm still dealing with 90+ temps at this start of this new school year, I'm all about daydreaming of cooler weather)
This Cinnamon Cream Cheese Fruit Dip is simple — just four ingredients — and comes together in minutes.  Just in time for those hungry tummies and their owners getting off the big yellow bus.
Slice some fruit and this dip is the perfect accompaniment!  Or, use it in the morning on top of toast or waffles for a creamy treat.
Just make sure to watch your Kidlets once it's made … my daughter and son took turns sneaking into the fridge for more!!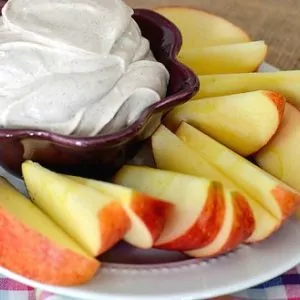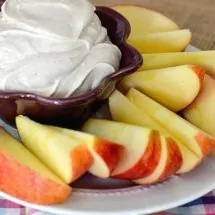 Ingredients
1 8- oz block of Cream Cheese
1/2 cup of Plain Greek Yogurt
2 teaspoons of Ground Cinnamon
2-4 teaspoons of sugar or honey sweetening to taste
Apples peaches or the fruit of your choice
Instructions
Using a food processor, blender or mixer, combine the cream cheese and greek yogurt till smooth.

Add the cinnamon and blend.

Begin adding the sugar or honey, a teaspoon at a time till you reach your preferred level of sweetness. Stir well.

Serve with sliced apples, peaches, strawberries or the fruit of your choice.

To store: place in an air-tight container and refrigerate.