This post may contain affiliate links. Read my disclosure policy here.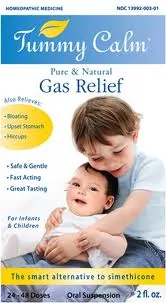 I have three boys -twins who just turned five this week and a six year old (who thinks he is sixteen). They all had their share of stomach problems as babies and had to take medication for acid reflux. Now that we are years past that, they still get the occasional belly pains, but unless someone seems truly sick I never really know what to do for them since they're still so young. 
I was recently introduced to Tummy Calm. Tummy Calm is a homeopathic medicine for relief of digestive upset in children, including gas, bloating, hiccups, teething, and stomach upset. Tummy Calm is a natural alternative to Simethicone Gas drops and is FDA-regulated, safe, gentle & effective, and non-habit forming or addictive.
The amazing thing about this product is WHO can use it. Babies, toddlers, and children. Honestly I would have expected a product like this just for babies so I was really impressed that you can use it for any age child as well. Makers of Tummy Calm are also developing a product for adult gas relief and expect to have Gastro Calm on the market soon.
Recently Danny, one of my five year olds, came to me complaining of an upset stomach. I thought it would be the perfect opportunity to give Tummy Calm a try. Danny does not like having to take any medicine and his eyes got wide when I took out the bottle.
You have to shake the bottle and when I opened it I spilled a little on me. I will warn you it is kind of sticky and black in color, but it should be like that. I thought to myself that Danny would never let me give him some now, but he ended up trying it anyway. To my surprise, and his too, he said it tasted pretty good. (Already a plus in my book.)  Within minutes he told me that his belly was all better. I could not have been more surprised.  When this child starts to complain of an upset stomach, it tends to go on and on.
I am most excited to try Tummy Calm the next time one of my guys gets the hiccups, which seems to happen often. Something that can stop the hiccups would be wonderful around here because the boys get miserable when they get them.
Disclosure: I received my own gift basket of Tummy Calm products in order to facilitate this review, as well as compensation for my time in writing the post. All opinions expressed are honest and my own.