This post may contain affiliate links. Read my disclosure policy here.
I always said I was going to hide ponies from my daughter.
Susan and I rode when we were teenagers and I know how expensive the sport can become.
I cannot afford for Olivia to fall in love with horses.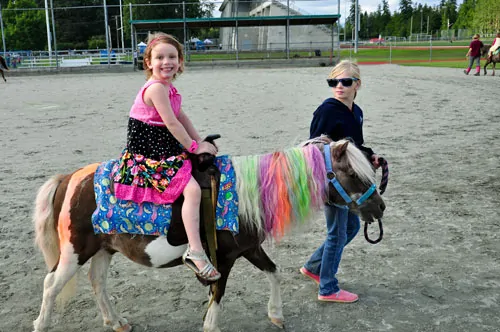 But, she found them on her own, as most little girls will. She is the child that doesn't want to leave the pony ride, and two trips around a circle will never even come close to satisfying her desire to ride. (I let her have three rides at the fair last weekend.)
The first time she got on a horse when she was three years old, she asked the man leading her to let her run. The man said, "Oh, we can't do that. You will fall off."
"No, I won't," she insisted.
Instead of letting her run, the kind man indulged her by letting her stay on the horse after all the other kids got in their cars and headed for home. Eventually, he just walked the horse back to the stables with Olivia on its back.
Olivia has an intense love and connection with animals. She has no fear of them at all.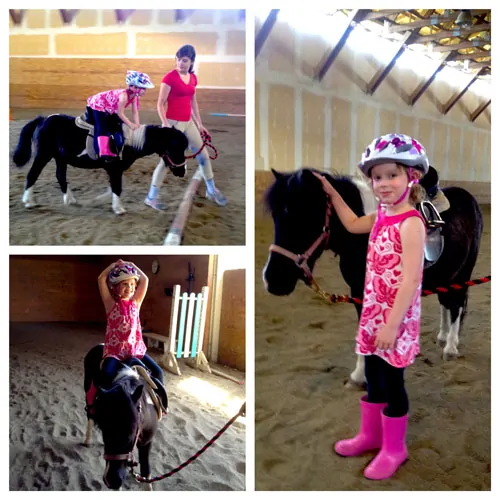 During her first riding lesson, she begged to "go fast" and even jump, LOL. Her teacher did agree to some trotting and teaching Olivia her two-point position.
Olivia's fearlessness when she is with animals is incredible. This is a child who is afraid to ride her bike with training wheels. Yet, put her on a horse, and she wants to fly.
What About Your Kids?
Are your children fearless with animals?
Written by Janice Croze, co-founder of 5 Minutes for Mom.
We want to chat — Tweet with us: @5minutesformom, find us on Facebook: Facebook.com/5minutesformom, or join our newsletter list.