This post may contain affiliate links. Read my disclosure policy here.
Lolli here…
When I think of Los Angeles today, I think of beaches, sunshine, palm trees….and traffic. It's hard to imagine a slower, simpler Los Angeles, like the one that Walt Disney saw when he stepped off the train from Kansas City in 1923.
What he saw when he arrived in Southern California that day is the vision that inspired the new Buena Vista Street at Disney California Adventure Park. The Red Car Trolleys are one of four new attractions that opened June 15 in Disney California Adventure, and key in establishing the look and feel of 1920's Los Angeles for Buena Vista Street.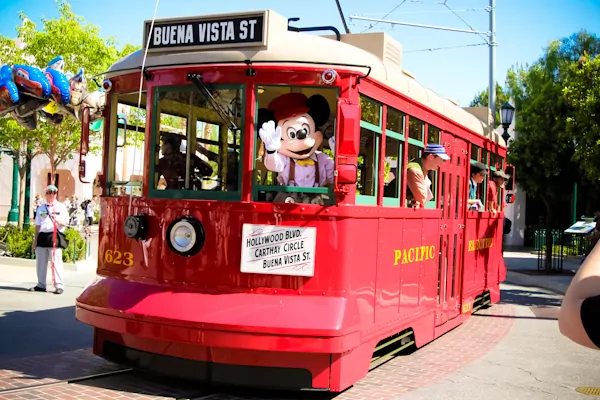 A few facts about the Red Car Trolleys
Disney's Red Car Trolleys are inspired by Los Angeles' historic Pacific Electric Red Cars from the 1920s and '30s.
Two Red Car Trolleys operate daily, traveling from Buena Vista Street through Hollywood Land and then to the Tower of Terror, making several stops along the way.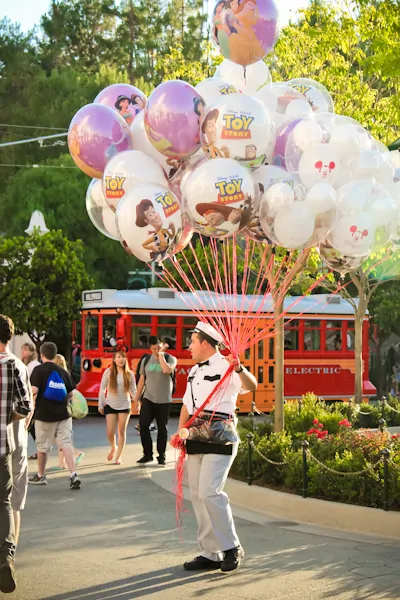 The Red Car Trolley route passes the Carthay Circle Theatre, based on the theater where Walt Disney premiered "Snow White and the Seven Dwarfs" in 1937.
While passengers enjoy a ride on the Red Car Trolley, two conductors share fun details about Disney California Adventure, including architectural, design and historical facts about the Red Car Trolleys and Carthay Circle Theatre.
The interior of each trolley is decorated according to the time period, including soft green and cream colors and vintage-looking ads.
Each Red Car Trolley has a bell and a whistle, adding to the melodic sounds of the street.
The "Red Car News Boys" (and Mickey Mouse) travel down Buena Vista Street in a Red Car Trolley singing "California Here I Come!" and other songs inspired by Disney's Broadway show, "Newsies."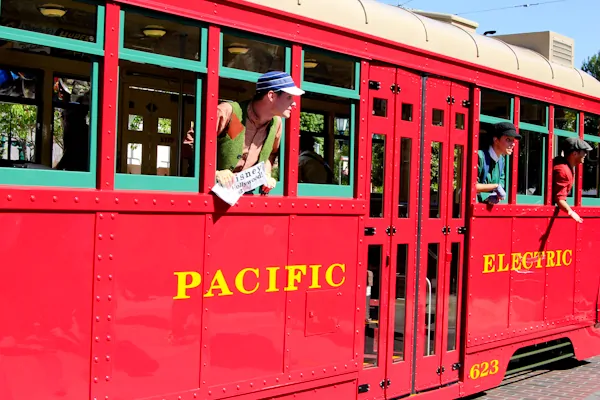 The Red Car Trolleys are 26 feet long, 8 feet wide and 11 feet tall. They seat 20 passengers and have space for a wheelchair.
Each Red Car Trolley has a number. The 623 car, with "23″ as a nod to the year 1923 when Walt Disney arrived in California, is based on the 600 series of trolleys built by the St. Louis Car Company in 1922. The 717 car is inspired by the 700-750 series manufactured by the J.G. Brill Company in 1925 (7-17 also refers to the birthday of Disneyland Park, July 17, 1955).
Catenary lines (the classic above-vehicle electric cabling) have been added above the trolleys to make them look even more authentic. The trolleys are actually powered by onboard 12-volt batteries and charged in the Red Car barn each night.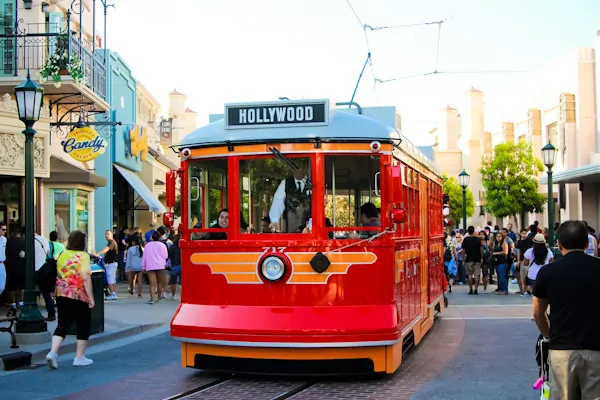 Whether you stop to take a relaxing ride on a trolley or simply watch the show from the side of Buena Vista Street, the new Red Car Trolleys are a colorfully fun and entertaining addition to Disney California Adventure. I can't wait to go back and experience them again!
Disclosure: I received an expense-paid trip to Los Angeles from Disney to cover the World Premiere of BRAVE and the opening of Cars Land. All thoughts and opinions (and photos included in this post) are my own.
Written by 5 Minutes for Mom writer, Lolli. You can find Lolli blogging at Better in Bulk and tweeting at @1momof5. Read about the other Disney adventures that Lolli discovered during her recent trip to Disneyland.