This post may contain affiliate links. Read my disclosure policy here.
Can you believe that it is has been 70 years since a small wooden puppet named Pinocchio first danced across the screen and into our hearts? With it's lovable characters, Academy Award winning music, and touching story about friendship, loyalty, and honesty, Pinocchio became an instant classic. And, after 70 years of Wishing Upon a Star, this Walt Disney classic is being released from the Disney vault for the first time in a Blu-ray and Platinum Edition 2-Disc DVD!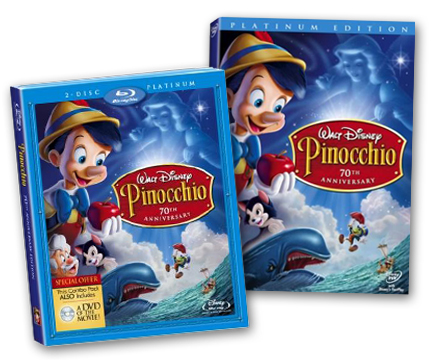 The story of Pinocchio is simple and yet so magical! A small wooden puppet sets out on a journey to become a real boy and, along his way, he meets all sorts of characters and learns some very valuable lessons about honesty and bravery. With help from the magical Blue Fairy, guidance from a wisecracking cricket named Jiminy Cricket, and Gepetto's never-ending love, Pinocchio is finally able to find his way home again and discovers the magic that happens when you "Wish Upon a Star".
Releasing this week, the Platinum 2-Disc DVD presents the classic film in a brilliantly restored format with enhanced picture and sound unlike anything you have ever seen or heard before. The 70th Anniversary release also includes dozens of bonus features, including:
Disney Song Selection where you can sing along with your favorite songs as the lyrics appear onscreen
A behind the scenes look at how Disney transformed Carlo Collodi's popular book into this classic animated film
Deleted Scenes and Deleted Songs
And even an Alternate Ending that was recently uncovered on a small set of storyboard panels!
The Blu-ray edition also includes some amazing bonus features. My favorite: Movie Mail! Through Movie Mail you can record a personalized video message that superimposes onto one of the many pre-selected movie clips. You can then send that clip off to friends or family as a very special personal greeting. AMAZING!!
The 2-Disc Blu-ray release also includes a bonus standard definition DVD of Pinocchio in the same package, allowing viewers the opportunity to enjoy this classic tale on standard def DVD while they are preparing to upgrade to a Hi-Def Blu-ray player!
You can continue to enjoy the magic of Pinocchio by downloading and printing some fun coloring pages and a Jiminy Cricket puzzler. You can also visit the Disney website for more great activities to enjoy with your kids!
In honor of this limited time release, Disney would like to offer our 5 Minutes for Mom readers a chance to win their very own copy of Pinocchio's 70th Anniversary Platinum Edition 2-Disc Blu-ray DVD! To enter simply leave a comment on this post by Friday, March 27. One winner will be chosen at random and announced on Saturday, March 28. This contest is open to US and Canadian addresses.
As always, don't forget to earn more entries: subscribe to our Feed, sign up for our 5M4M Newsletter, add our 5M4Giveaways button in your sidebar, write a post and link back to this contest on your blog, and spread the word via Facebook, Twitter, or email! Please see our site's Terms and Conditions of Use for a complete list of our contest and giveaway rules.
Written by 5 Minutes for Mom Contributing Editor: Stacey Lynn