This post may contain affiliate links. Read my disclosure policy here.
Disney World in THIS economy?!?
At first, I almost felt guilty going to Walt Disney World — and writing about it — during the worst recession any of us has lived through.

When people are losing their jobs and wondering how they will provide for their families, is it appropriate to talk about spending money on extras like family vacations?

But after a bit of thought, I realized that because of the recession, it may be even more important for me to write about the Disney experience.
Why? Because people need jobs!
And Disney employs a LOT of people — approximately 62,000!
Throughout our time at Disney, I thought about the employees. Everyone worked so hard to make Disney a wonderful experience for their guests. Everyone seemed so thrilled to be a part of the Disney magic.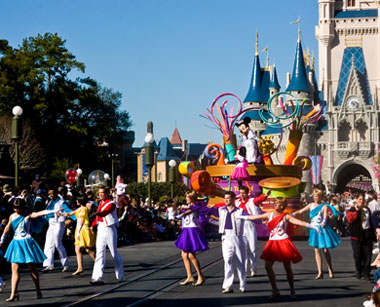 The hotel clerk, the waitress, the bus driver, the cast members dancing, flipping and singing, and everyone in between — they all desperately need and want their jobs. And if the people who still have their jobs panic and stop visiting Disney World, they will lose their jobs. And so the snowball grows.
I am not advocating spending money we don't have. I am not recommending lavish luxuries we can't afford.
But I am saying that for those who do still have jobs and family vacations are in their budget, maybe visiting Disney World is a good thing.
During a family vacation at Walt Disney World, not only are you having an incredible time with your children, you are helping the economy and helping those 62,000 workers keep their jobs!
If you would like a chance to win Four 1 Day Walt Disney World Park Hoppers, click over to my Disney World Review post to enter.
Updated to add: Yes, in case it wasn't clear in this post, Disney did provide our family with passes to their parks and a stay in their hotel. As we state in our Disclosure Policy, we often receive free products and services when we are preparing a review or a giveaway for this site.
Disney is a fantastic supporter of the blogging community and they have had several bloggers review their parks.
You can read our disclosure policy at http://www.5minutesformom.com/disclosure/.