This post may contain affiliate links. Read my disclosure policy here.
Hey guys — Jennifer here,
I used to take policemen for granted. I thought their main goal in life was to ruin my fast driving capabilities and put a dent in me getting someplace on time. However, my thinking changed whenever my husband started working as the maintenance man for our local police station.
Everything about my thinking changed.
You see, I was always one who joked and made fun of cops and their doughnuts and coffee runs.
I made fun of the fact that all they did was ride around in their police cars making havoc for others, or pulling someone over to make their quota on tickets for the month.
In fact, one evening as I sat and chatted with one of my hubby's new police friends, I made a joke about his moving office. He laughed, but then his tone turned serious and he shared some things with me that rocked me to my core.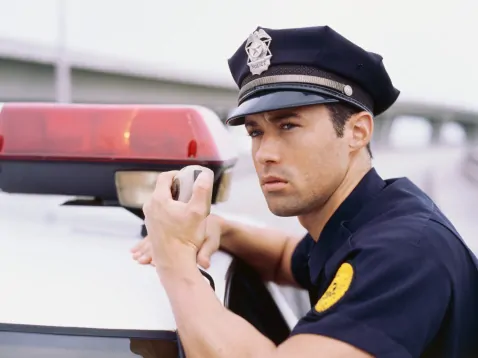 This cop started sharing his story with me. He works in the department that deals with child molesters, and sex offenders, and rapists and he was telling me about how as a policeman to get them to share, many times he would have to go in and act like their friend in order to get them to talk. He would have to listen to detailed stories of crimes committed and I began to feel horrible about the way I had envisioned law enforcement.
This cop made me see that there is more to their job than just pulling someone over.
I cannot even begin to tell you how horrifying this was to listen to as he shared. I asked him if it was hard to let all of that go when he got home in the evenings. Yes–he said. It was extremely hard for him to control his emotions when he had to listen to story after story, when all he wanted to do was rip their heads off for hurting an innocent victim.
This is a father, a husband, a family man.
Policemen have a very rough job. Just giving out tickets for illegal parking or speeding is a small portion of what they have to deal with and handle –there is SO much more underneath that they deal with that you and I do not ever see.
The late nights searching for a suspect.
The many hours they have to be away from their families.

The horrid stories and images that they have to listen to in order to get to the bottom of a case.
No, we never see that. So in my eyes, servicemen like cops and firemen, and detectives–those are the real superheroes. That is why I am really excited that they will be honored whenever I attend the Tribeca Film Festival Closing Screening of Marvel's The Avengers next week, April 27-29. They are the ones that need to be applauded every day for saving our nation!
What about you? Do you know any real superheroes?
Jennifer is the Advertising and Communications contact here at 5 Minutes for Mom. When she is not busy answering emails here, you can find her sharing about her life on her own blog Jen's Journey. You can also find her on Twitter or on Facebook.