This post may contain affiliate links. Read my disclosure policy here.
I am not an ostentatious jewelry wearer.  I love jewelry and have a fairly extensive collection, but to me, while jewelry definitely helps to complete a look, it has to mean something, too.  That's part of the reason why I wear a bracelet that I purchased almost two decades ago during my first and only visit to a great-aunt I had never before met.  We got along wonderfully, and she had an artisan friend who made jewelry.  Every time I look at the bracelet, it reminds me of her.
I love finding other jewelry that is similar in function, where it has a story or means something to me.  The rings from Shame on Jane do just that – literally.  The collection of 2.5cm wide rings comes in either sterling silver or sterling silver plated with 18 karat gold for the individual RemindeRings or in metal plated in either silver or gold for the collections.  The RemindeRings are meant to be lighthearted fun – great gifts for the women you know who need a little reminding that life is fun.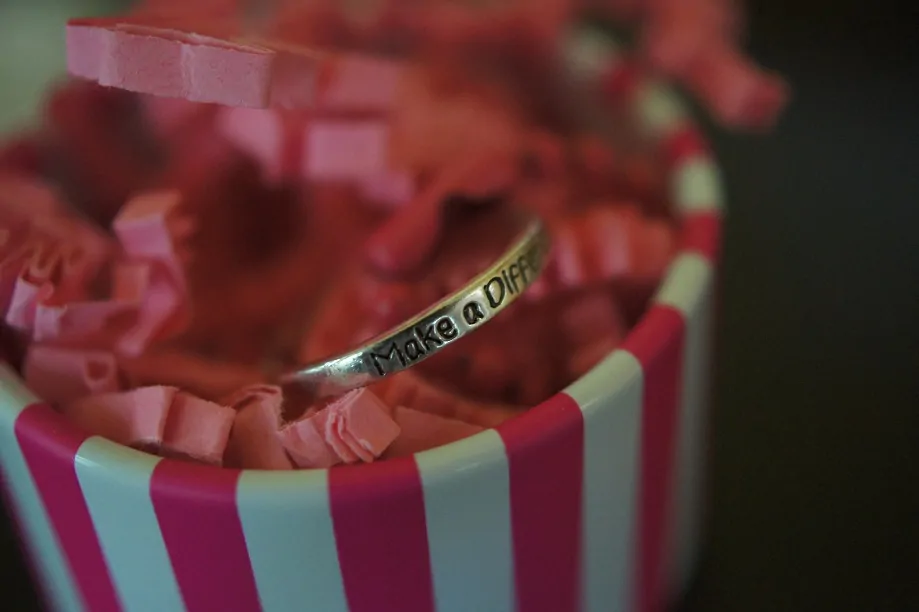 The reminders range from "Inspire Change" to "Trade Up" (for the newly single) to "Get a Babysitter" and more.  I love that the bands are so thin, as it makes them very stackable, both with other RemindeRings and with other jewelry that you're already wearing.  The individual sterling silver rings are $42, while the metal collections are $40 for five stackable rings.  They are very much tongue in cheek, especially the collections.  For example, the Bridal Shower set includes reminders to get skinny, remember the groom, register… return, double the budget, and indulge the mother-in-law.  I know I could have used a fun poke at myself while planning my wedding.
The rings come in an adorable little box that makes the gift giving even more fun.  The message is clearly visible with the ring displayed once the box is opened, and I for one am grateful that the rings are all connected by a small chain so that none get lost in the shuffle, as they are relatively tiny.  When I had the opportunity to receive one, I had a hard time deciding which one, but even knowing I was going to receive the Make a Difference ring, the package made me smile when I opened it.  I think I have a great new idea for some gifts for friends.
The messages aren't complete, of course.  Another awesome phrase is out there somewhere.  And Shame on Jane is having a Mother's Day contest to come up with the next great message to place on the RemindeRings.  Now through May 11, you can enter your idea.  The winning entry will receive a $200 shopping spree at Shame on Jane, plus the ring with their message.  Second and third place winners receive a $50 gift certificate to Shame on Jane.  Tell me you can't come up with a message that would make your girlfriends giggle.

In the interest of full disclosure, I received a Make a Difference sterling silver ring for review purposes.  I was also compensated for this post; however, all opinions expressed remain my own.
Written by 5 Minutes for Mom contributor Michelle who definitely needs these reminders from her friends and her jewelry.  You can find out why on her blog Honest & Truly! or by following her on Twitter where she is @HonestAndTruly.