This post may contain affiliate links. Read my disclosure policy here.
If you think that The Baby Fat Diet is only for new moms, think again. I mean — honestly — how many of you moms of preschoolers or grade schoolers are still carrying extra baby weight? Or maybe you've even gained weight as your children are growing up, due to eating the young-child's diet of PB & J and chicken nuggets, either along with them or by mindlessly noshing on their leftovers?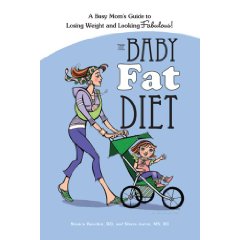 I like to read about nutrition, and theoretically I like to put the principles into practice for myself and my family as well. The Baby Fat Diet is a great book, providing balanced health information and even a place to put your goals for changes in writing at the end of each chapter.
But what makes this book unique is that it's written by moms for moms. Whether you are a brand-new mom, or in the throes of trying to balance a healthy lifestyle while raising older kids, authors and registered dieticians Shara Aaron and Monica Bearden know about the challenges this stage presents, and also how important it is to incorporate healthy eating — for the good of the entire family.
The first few chapters of the book do address healthy eating in pregnancy and post-partum, but the remainder of the book is chock-full of information for any mom including
The Importance of specific nutrients and food groups
Keeping a healthy metabolism
Eating healthy on the go
Serving sizes and meal suggestions
You can also check out the authors' Baby Fat Diet blog for ongoing encouragement.
Would you like to win a copy of The Baby Fat Diet (U.S. addresses only)? Leave a comment, and please see our site's Terms and Conditions of Use for a complete list of our Contest and Giveaway Rules.
Check this column next week to see if you won.
The winners of How to Be a Geek Goddess are #133 Noelia Gutierrez, and #199 Holly Cooper. You each should have received an email from me. If not, please send your address to 5minutesforbooks (at) gmail DOT com.