This post may contain affiliate links. Read my disclosure policy here.
I count myself among the many women out there who have gained significantly more techie knowledge over the last couple of years than I ever thought I would have. Through blogging I've learned about HTML coding, uploads, feeds and things I never thought I'd know about (or even care to know). My husband gave me a Logitech Squeezebox Boom Network Music Player for Christmas, which involved several steps of installation that allowed this innovative music player to access internet radio and my music library as stored on my harddrive. Instead of pleading ignorance and letting "the man" do it, I figured it out myself. I've also set up wireless printers and video game systems, not to mention tried (tried, I say) to diagnose and repair problems on my computer. Being a housewife isn't what it used to be.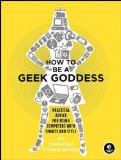 Even five years ago, a woman could consider herself a domestic goddess if she kept the laundry done and managed to get a hot meal on the table a few days a week while also keeping up with social schedules and homework. But now we all need a rudimentary technical knowledge to keep our homes in good working order, and if we have more than basic skills, we can really add value to our family.
No Starch Press offers "the finest in geek entertainment" with books about Lego Robot kits, networking and more. How to Be a Geek Goddess: Practical Advice for Using Computers with Smarts and Style by Christina Tynan-Wood provides the best in technical information written by a woman, for women. She doesn't dumb it down, but she doesn't try to show off her expertise with confusing terms and acronyms. This book gave me practical information about
Buying a computer
Making the most of your home WIFI network
Tips to keep your computer running quickly (and notice I didn't use that confusing power word optimization, nor did she)
Customizing your own start page and using free scheduling tools
For those less familiar with some of the basics, this book also covers
Getting online
Social networking: blogs, facebook etc
Internet shopping (with sites and tips that were helpful to me, a veteran shopper as well
This informative and highly readable book would make a great gift for your mom or grandmother who has just gotten online or perhaps wants to go beyond just using the computer for email. Because of the more advanced information, it also makes a great reference for any home library.
You can check out the chapter on shopping yourself right now. For the latest information, check out author Christina Tynan-Wood's blog Geek Girlfriends.
We have two copies of How to Be a Geek Goddess to give away. Leave a comment if you'd like to win, and check this column next week to see if you won.
Due to legal restrictions, this promotion is not available in Arizona or Quebec. Please see our site's Terms and Conditions of Use for a complete list of our Contest and Giveaway Rules.
The winner of last week's book, The Centurion's Wife, is #97 Anita. You should have received an email from me. If not, please send your address to 5minutesforbooks (at) gmail DOT com.