This post may contain affiliate links. Read my disclosure policy here.
Today one of the members of the 5 Minutes for Books' team of reviewers will be offering up our weekly book review here at 5 Minutes for Mom. Lauren is a wife, a mother of two, and an avid reader. She blogs at Baseballs and Bows.
On Thursday, we start a new year. To me, it seems that each year passes faster and faster. I am no longer a child who feels like time stands still. Instead, I just want to shout, "Slow down!" I know that our world has many problems, but I am thankful to be alive at this time, and I look forward to the coming year. I hope you do too.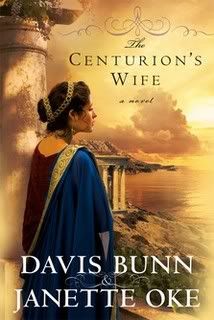 Although I am glad to live here and now, I enjoy reading historical fiction. I am always up for a good story, no matter the setting; but I do appreciate learning how others lived in the past. In their latest novel, The Centurion's Wife
, Davis Bunn and Janette Oke explore the days following the death, burial, and resurrection of Jesus through the lives of Leah, a servant in Pilate's household, and Alban, a Roman centurion.
I enjoyed this book. I am familiar with the Biblical account of these events, and it was fascinating to consider the thoughts and actions of the Jewish leaders, the Roman officials, and the followers of Christ through the eyes of these fictional characters. I appreciate fictional accounts of Biblical events because I find myself wanting to reread the stories in my Bible, and novels of this type help me to gain a better understanding of the everyday lives of the Biblical characters I have read about so many times. Of course, I do encourage you to read the accounts in your Bible. Even the most well-written narrative is not the equivalent of God's word (and I am sure the authors would ask you to do the same).
The Centurion's Wife
is the first book in the Acts of Faith series. While reading it, I couldn't help but think of Francine Rivers' Mark of the Lion

series, which is also set in the first century during the early years of Christianity. In my opinion, the characters in the Mark of the Lion

stories are more compelling (so far), but both series are historically fascinating. If you enjoyed the Mark of the Lion series, I recommend The Centurion's Wife
to you. I look forward to following Leah and Alban in future books. While Davis Bunn is new to me, I have enjoyed Janette Oke's books in the past, and I am excited to see how the story unfolds as Mrs. Oke explores a Biblical setting for the first time.
If you would like to win a copy of this book (U.S. or Canadian shipping addresses) from Bethany House, please leave a comment. We'll post the winner in next week's column.
Due to legal restrictions, this promotion is not available in Arizona or Quebec. Please see our site's Terms and Conditions of Use for a complete list of our Contest and Giveaway Rules.