This post may contain affiliate links. Read my disclosure policy here.
So, I am sure you like a good sale, right? If you hear that a store is going out of business or is having a huge clearance event, you check it out, right? It is ALWAYS wonderful to get THE perfect item at a discounted price.
Well what if you, from the comfort of your home and in your pajamas even, had a chance to receive a great deal each day on a fun, practical boutique item? Well at One Goodie, you can do just that.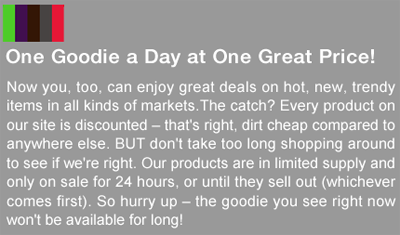 One Goodie is comprised of two fabulous sites: OneMommieGoodie and OneFoodieGoodie.
At OneMommieGoodie, you will find one deal a day on boutique products for the savvy Mommie. These are products any Mommie would need or love to have for themselves, their children, or their family at a great price daily.

OneFoodieGoodie features all things gourmet, ranging from cooking products and tools to food and gadgets. These sensational items are offered with exceptional deals.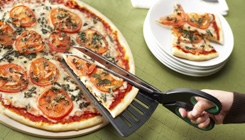 If you head on over there today, January 12th, there are two fun treats awaiting you. I MUST tell you that I am especially drawn to the Pizza Pro over at OneFoodieGoodie. How cool is that? And at the One Goodie price, you save 25%.
Now last month, when I found myself scurrying at the last minute to find presents for my family members, I told myself that next year I will start Christmas shopping MUCH sooner.
Well, I say, heck, I'll just go to One Goodie every day, where I am bound to find the perfect gift for a friend or loved one. And every item I buy, will be at a discounted price. At this rate, I could have my Christmas shopping done by February, and I'll save money to boot.
I don't know about you, but I have bookmarked One Goodie. They debut a new product on both sites at 12:00 A.M EST. It is only up for sale for 24 hours or until it is sold out. Another item is not listed again until 12:00 A.M. the following day.
The lovely ladies of One Goodie make Friday a bit more fun. The products that are listed on Fabulous Friday, stay up all weekend long, until Monday at 12:00 A.M. EST…. or until they sell out.
And because the gals at One Goodie are so wonderful, they have prepared a special prize for one lucky reader. A gift pack featuring today's Goodies, The Pizza Pro and Kubit2Me as well as two other One Goodie favorites, The Chatterbox and The Jimmies CD, could be yours. They even added in a fun popcorn bowl filled with 2 popcorn flavors and vanilla cocoa.
Here's how to enter to win the gift pack, retail value $125.00:
Please leave one comment below to enter this giveaway. You may earn additional entries for the following:
1. Subscribe to our Feed
2. Sign up for our Newsletter
3. Add our 5M4M button in your sidebar. Click here for banner codes.
4. Write a post and link back to this contest on your blog
5. Spread the word to your friends via facebook, twitter, etc.

If you are already subscribed, are on our newsletter list, and have our button in your sidebar, you qualify for these three additional entries. Go ahead and leave your additional comments below. Your comment is your entry, so if you qualify for the additional five entries, make sure you leave six comments in total.

Entries are open from Monday, January 12th thru Friday, January 30th. Our winners will be drawn randomly and we will announce the winners on Saturday, January 31st. Please make sure to check our site and your email address to see if you have won the prize. We must receive your reply within 5 business days.
Please see our site's Terms and Conditions of Use for a complete list of our Contest and Giveaway Rules. This promotion is void where prohibited.