This post may contain affiliate links. Read my disclosure policy here.
Perhaps the Best Dad Blog Out There…
Last June, I met Charlie Capen, co-founder of How To Be A Dad, on Twitter. He was chatting with a blogging friend of mine and I happened to notice that he had over 20,000 followers, but had only been on Twitter for a few months.
Intrigued, I jumped over to check out his site. And within two minutes, I was a How To Be A Dad FAN. I instantly understood how they had shot to over 20,000 followers in just the three months since their April Fool's Day launch.
How To Be A Dad is simply awesome stuff. Charlie Capen, an LA actor, and his co-founder Andy Herald, creative director at a design firm, make the perfect team and what they create together is hysterical, top quality content. Their work just begs to be shared it is so funny — and boy people are sharing it! They have had numerous posts become viral, crashing their server and getting page views most of us only fantasize about.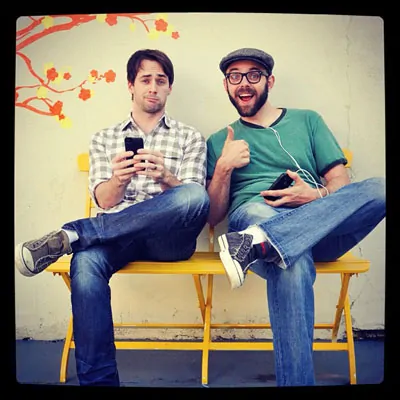 Charlie and Andy worked for nine months to build How To Be A Dad, pre-loading some content and ensuring that "they got it right" before they launched. (Charlie likes to point out that it took nine months to bring their site into this world. I still don't think it was quite as painful as gestating and birthing an actual human being, but we will let him feel like they earned their gestational stripes.)
And it is that complete devotion to quality that makes How To Be A Dad such a success. Their work is totally professional and stands out in the crowded blogosphere. And, did I mention, it is FUNNY???
Kin Parents
Kin Community, a DECA company, hired Charlie & Andy to create a weekly segment on one of their premium YouTube channels, Kin Parents. The videos offer a unique, humorous take on parenthood from the male perspective and they are fantastic. I have watched them all — many more than once!
I loved this video How Not To React To The Big News the best and just had to share it with you. (Yes, their stuff just makes you want to hit share.)
If you liked this post, we would love it if you gave it a Stumble, Tweet, Pin, or Facebook Like. Thanks so much! We really appreciate your support of 5 Minutes for Mom.
Written by Janice Croze, co-founder of 5 Minutes for Mom.
We want to get to know you better — Tweet with us: @5minutesformom, find us on Facebook: Facebook.com/5minutesformom, or join our newsletter list.