This post may contain affiliate links. Read my disclosure policy here.
Do you love quesadillas? You've got to try this recipe for Roasted Pepper Chicken Quesadillas.
Living in Texas, it isn't hard to find good Tex-Mex restaurants around — and with the new popularity of food trucks, Tex-Mex and authentic Mexican dishes are even more abundant than ever before.
But … taking three children to a grown-up restaurant is a bit daunting.
Scratch that.  There are ninety-nine million other things I would rather do than take my three kids out to eat.  Why?  Well, the last time we visited our favorite Tex-Mex restaurant here in Houston, I caught the two oldest kids licking salt and sugar off of each others' faces.
*I* caught them … my husband had been watching their antics for five minutes, laughing, with nary a thought about stopping them.
(sigh)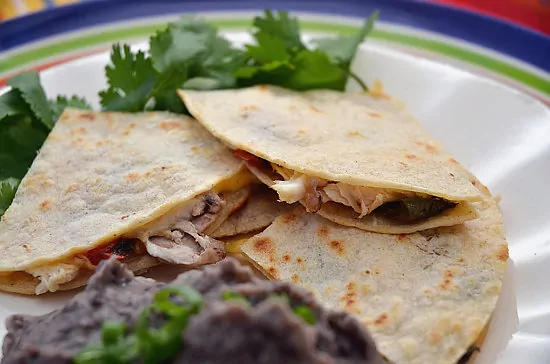 The baby used to be innocent but now that he's a wizened 7 month old wee-man, he feels the need to squeal and scream all day long, while trying to pull plates, cups, and cutlery off the table and onto the floor.
(I truly believe I am the only sane human in my family)
To keep us out of the (scrutinizing) public eye, I have incorporated "Tex-Mex Tuesday" into my weekly meal plan.  Every Tuesday, I serve our favorite restaurant dishes and never worry about which child is going do who-knows-what to embarrass me.
It's the best of both worlds.
These Roasted Pepper Chicken Quesadillas use everything that is great in Tex-Mex cuisine: corn tortillas, Mexican cheeses, chicken, and (of course) roasted red and green peppers.
Whether you roast the peppers yourself or buy jarred roasted peppers from the store, you are sure to have a winning dinner to offer your family.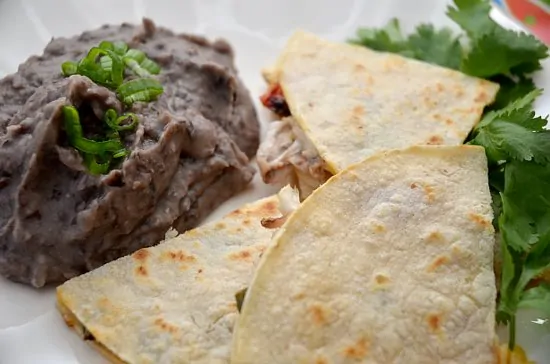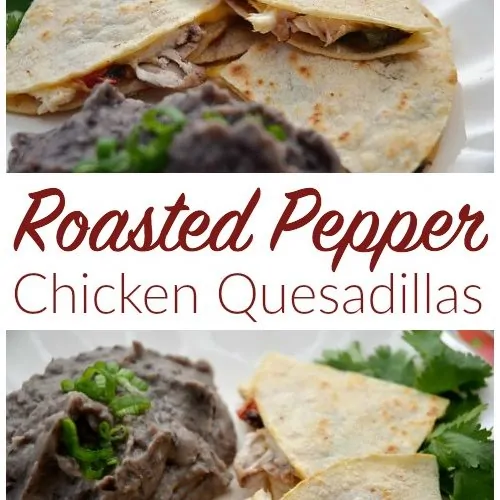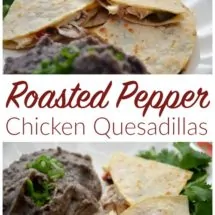 Roasted Pepper Chicken Quesadillas
Easy to assemble, family-friendly meal utilizing authentic Tex-Mex flavors.
Print
Pin
Rate
Servings: 4 -6
Ingredients
8-12 Corn Tortillas
1 cup of Roasted Bell Peppers diced
1 - 2 cups of Mexican Blend Cheese shredded*
1-2 cups of Cooked Chicken diced or shredded**
Cooking Spray
Instructions
Lightly spray your cooking oil spray onto a non-stick pan and then place the pan over medium heat.

Lay one corn tortilla on the pan; sprinkle 1/4 cup of cheese on it.

Sprinkle diced roasted peppers on top of the cheese (I generally use around 1/8 of a cup per person).

Top with cooked chicken, followed by more cheese.

Place a second corn tortilla on top and gently press down.

After 3-5 minutes of cooking, carefully flip the quesadilla and cook the other side until the cheese is melted and both sides are golden.

Repeat steps for remaining quesadillas.

Serve with sour cream, salsa, and/or guacamole.
Notes
*I use packaged pre-shredded cheese blends for this recipe, but if you grocery store carries authentic Mexican cheeses, feel free to use one. ** You can use grilled, broiled, or roasted chicken. To save time, I like to use a rotisserie style chicken (whether purchased from my grocery store or made earlier in the week) because it yields enough meat for this recipe and additional ones in my week's menu.