This post may contain affiliate links. Read my disclosure policy here.
I have no scientific data to prove it, but I'd bet that in a list of most popular New Year's Resolutions, "Getting Organized" would rank pretty close to "Losing Weight". It certainly did on my list.
Is getting more organized one of your goals for 2009?
A huge goal of mine this year is to more effectively manage my projects and keep my task list more organized. And I'm excited because I'm already well on my way.
As a work-at-home mom with two online stores, a network of blogs, and two new exciting websites in the works, it's clear that I need some effective software to organize and manage my business, my family and my life.
But in my previous life as a software developer in the business consulting world, I spent far too much time updating Microsoft Project schedules. And I miss MS Project about as much as I miss the inhumane overcrowding of the morning commuter trains.
I'm an entrepreneur. I like to see new opportunities and create exciting projects. Sure, those projects need to be 'managed', but I don't want my whole day spent dirty in the depths of MS Project.
It's been six years since I rode a commuter train and I haven't opened an MS Project file since.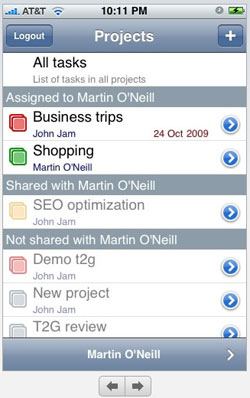 No, I need a mobile, quick and easy, Web 2.0 app that I and my ever-growing team of work-at-home moms can launch on whatever desktop, laptop or iPhone we have with us at the moment.
As a work-at-home mom, I'm constantly juggling between my desktop, laptop and iPhone, so I need my tasks stored online.
And I can't force my team members to struggle with the complexities of MS Project or another similar monster application.
So when I heard of an iPhone compatible application called Task2Gather, I was intrigued. It's a free online service for task and project management that requires no training.
I soon discovered Task2Gather is perfect for me as a mom as well as a business woman.
With Task2Gather I can manage work projects as well as create personal tasks for my shopping lists, household chores and family responsibilities. I can share and assign tasks to teammates and to my dear hubby — those who don't have iPhones simply use the web-based version.
After I hopped over to the iPhone app store and for 99 cents downloaded it, I started adding tasks.
It is dead easy to use.
On my iPhone, I immediately began creating projects with tasks and subtasks. I then went to the website and signed in to the full online version. I easily invited new participants to my projects, and assigned them to tasks.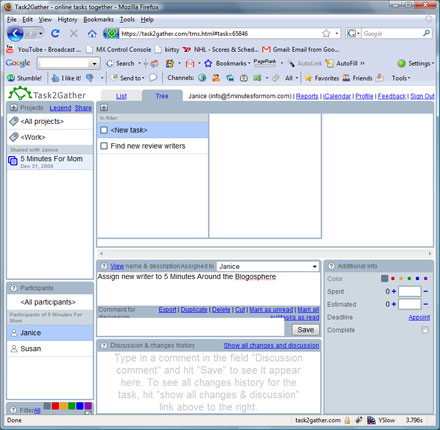 My team and I are thrilled and thankful to have discovered Task2Gather. It's simple, yet powerful. And, it's basically free.
The iPhone download is currently only $0.99 and the basic online application is free to use. I believe they will soon also offer a paid subscription with advanced features such as reporting, attaching files and more.
Since Task2Gather is a new application that is perfect for moms and business women, the developers asked us to get your feedback. So, for a chance to win $200 cash, you can sign up for FREE at Task2Gather and test it out.
Then come back here and leave us a comment telling us what you like and what improvements you'd suggest.
If you have an iPhone, you'll love that you can download the iPhone app for only $0.99 and manage your tasks on the go. (Testing the iPhone application is not required to enter the contest. The only requirement for entering the contest is that you test out the free online version.)
I think after your test run, you'll agree that whatever your business, if you're a mom, your life can be simplified with Task2Gather.
Remember, to enter to win, test out Task2Gather and leave your feedback in a comment below.
If you already subscribe to our newsletter and/or our RSS feed and/or have our button on your site, you qualify for additional entries. Also, if you tweet or spread the word via facebook, your blog, etc., just leave additional comments letting us know and you will have additional entries. (Your comments are your entries.)
This giveaway is open for entry until Friday January 30th, 2009. The winner will be announced on Saturday January 31st, 2009. This giveaway is open to US and Canadian addresses.
Please see our site's Terms and Conditions of Use for a complete list of our Contest and Giveaway Rules. This promotion is void where prohibited.