This post may contain affiliate links. Read my disclosure policy here.
Whenever I go a while without reading fiction (pushing it aside for memoir generally), I end up asking myself what I was thinking. Especially when I read beautifully-written literary fiction like Joshua Henkin's Matrimony.
I would suspect that those who are lukewarm about this book do not generally enjoy character-driven literary fiction. I would not recommend this book to fans of thrillers or suspenseful who-done-its, but if you like the slower pace and thoughtful style of literary fiction, Matrimony won't disappoint.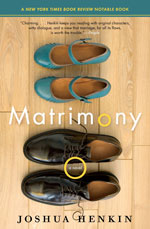 But this is not simply a character novel. It is character-driven, but there is also a definite plot. We care about what happens to the characters, and the author successfully tells the story of Mia and Julian, Carter, and even the ancillary characters. The ends are tied up, but not so neatly that it doesn't seem real.
This book is about real-life. We follow a real marriage (several of them actually), and through that experience the themes of friendship, aging, loss, forgiveness, and identity, which all come into play as we live out our own marriages.
This novel, just like real-life, doesn't always contain a lot of drama. Good things happen, bad things happen, and through it all life goes on. That said, it's not so real that it's depressing. A friend of mine who prefers sit-coms to reality television or drama often quips, "My life is real enough." Fiction should transport us to another world, and this book does that. The characters of Mia, Julian, Carter as well as the minor characters like Julian's parents and Mia's family and professor Wainwright quickly enter the reader's subconscious, which drives you to read page after page wondering how it will turn out.
Another feature that adds to my enjoyment of a novel is a strong setting, and this one delivers by incorporating two characters: New York City and the distinct feel of a college town.
Read more about the book and the author at joshuahenkin.com. Read a related guest post about book groups from the author at 5 Minutes for Books.
Would you like to win a personally autographed copy? Leave a comment here. We'll announce the winner in December 15's column.

This contest is open to anyone in the world! Due to legal restrictions, this promotion is not available in Arizona or Quebec. Please see our site's Terms and Conditions of Use for a complete list of our Contest and Giveaway Rules.
The winners of Too Many Toys are #101 Diane S., #165 Jayne, #65 Maja.