This post may contain affiliate links. Read my disclosure policy here.
Guess what?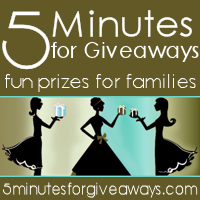 We are going to bring you even MORE giveaways!

Today, we are launching www.5minutesforgiveaways.com.
Why another site?
With all the review requests we get, we simply can't accept them all. There isn't enough room at 5 Minutes for Mom. As it is, we often have three posts a day at 5M4M.
But, I am terrible at saying "no." I can't help but think of the readers who won't get to win those great prizes.
So, we are starting a site dedicated to reviews and giveaways. Now, with 5 Minutes for Giveaways, I won't have to say "no" so often. We will have a place to post all those giveaways and some additional writers to handle writing the reviews!
YES! We will still post giveaways here at the main 5 Minutes for Mom site. There will just be another place to hop over to and enter for even more free stuff.
The Grand Opening!
For the big 5 Minutes for Giveaways opening, we have some incredible giveaways in the next two weeks to get you in the mood for giving and receiving this holiday season.
Make sure to be checking 5 Minutes for Giveaways for these great prizes. And to make sure you don't miss any, you can sign up for the 5 Minutes for Giveaways RSS feed.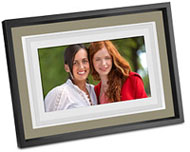 To kick off the site, today we have a prize that makes for the perfect Christmas gift – a Kodak Wireless Digital Picture Frame.
With the EASYSHARE W820 Wireless Digital Frame you can play multimedia slide shows of your pictures, videos and music – it is just so cool!
If you are looking for a special, creative gift for someone, you could buy them a Kodak Wireless Digital Frame…

And then enter over at 5 Minutes for Giveaways. Because if you win, it will be OUR Christmas gift to YOU!
More Prizes Coming…
Make sure you put 5 Minutes for Giveaways in your regular round of blog visiting. You won't want to miss any of the fun prizes.

Some of our other upcoming giveaways at www.5minutesforGiveaways.com:
And THANKS to…
A HUGE thanks to Shera from A Frog In My Soup and Sweet and Simple Design for the design work on 5 Minutes for Giveaways. Shera and I had such a fun time coming up with the color scheme and images. Thanks for your patience with me Shera!!!
(Thanks to our designers' Christy and Beth from Ruby and Roja fabulous design layout for our original 5M4M and sister sites designs, all we needed to do was modify an already great layout.)
And also thanks to Jen from One Woman's World for helping out with the techie stuff.