This post may contain affiliate links. Read my disclosure policy here.
On the day before Amanda got out of school for Thanksgiving break, she had to decorate five feathers that would be stuck on her turkey. Each feather had to list one thing she was thankful for. She asked me, "Do you think it would be okay to say that I'm thankful that you have the 5 Minutes for Books site because we get a lot of really great books and stuff?"
It was funny, but she's right. I too am thankful that my hobby of reading has turned into a bit of a job here and at the new site. I'd always be reading, but one of the perks is that we do get to look at so many books that we might not normally even know about.
So a few weeks ago, four-year-old Kyle was resisting naptime, so I was able to pull something fun out of my hat as an incentive,. "Oh — I have a cool new book we can read as a bedtime story," I said as I brought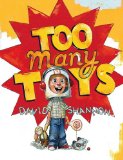 Too Many Toys by David Shannon to his room. "Look, it's called Too Many Toys."
"Like I have too many toys," he said (catching on quickly). "But I don't want to give them away!"
As you might imagine, this book is about a young boy who had too many toys. His family tripped over them, he hoarded even the ones that were broken, and his mom finally decided that some of them had to go!
This book is illustrated in David Shannon's typical bright and whimsical style. I think that kids are attracted to the larger-than-life characterizations of the children, parents, and even inanimate objects.
Kyle enjoyed it, chuckling in all the right places, and has even asked to hear it again. As for me — well, it's inspired me to clear out some of those toys, and to even think twice about what I buy — for my kids and others — this holiday season.
Check it out and see if you don't agree that there are Too Many Toys in your home as well.
I wouldn't want to add to the problem, but books don't count as toys, right? We all need books, so are giving away 3 copies. Leave a comment and I'll announce the winners in December 8th's book column. This contest is open to US shipping addresses. Due to legal restrictions, this promotion is not available in Arizona.
Please see our site's Terms and Conditions of Use for a complete list of our Contest and Giveaway Rules.
I don't have any winners to announce today, because the two contests from last week are still open. You can enter to win the new book by J.K. Rowling HERE and a Klutz activity book prize pack HERE.