This post may contain affiliate links. Read my disclosure policy here.
Guest contributor, Serena Norr, is back with more details of her visit to the set of Pan Am…
The Season Finale of Pan Am
As I mentioned in my last post I had the pleasure to visit the set of the ABC drama Pan Am where I was able to see firsthand this dynamic set as well as interview Christina Ricci (Maggie), Margot Robbie (Laura) and Michael Mosley (Ted).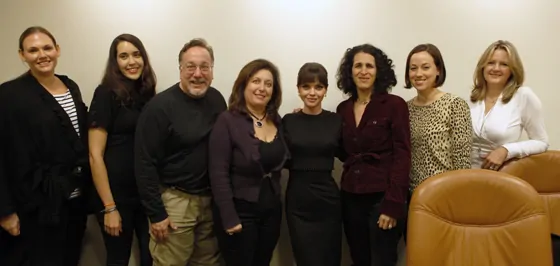 I loved seeing the actual plan and meeting with cast who spoke highly of their experiences shooting the show.
During the visit, I also had a chance to visit during the taping of the show's finale. Set to air in mid-February, the finale marks an exciting end to the season that has been raved for its originality and poignant ties to history covering the early-to-mid 60s. A time, according to Margot Robbie who plays Laura, "There was no rights for women. It was before the Civil Rights Movement." Adding, "It is an interesting aspect and I like that it is incorporated into the script."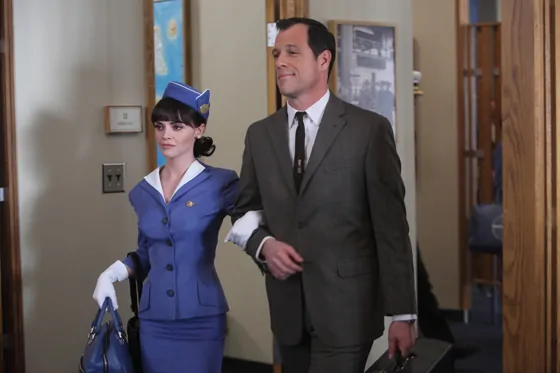 During the visit, it was clear that the cast was also sad about the end of the season, particularly, Margot, who noted, "I just love the uniforms. Yesterday was my last day in it, so I'm hoping we come back for another season."
The finale ends with episode 113, entitled "1964." As a show that is both entertaining and historical, the finale is promising to be an exciting send-off for a show that is about the most prestigious airline in the world that was synonymous for global travel.
As New Year's Eve is approaching at the start of 1964, the episode finds Collette (Karine Vanasse) caught up in a whirlwind courtship by a foreign prince, and Dean (Mike Vogel) kicking himself over losing her. The episode also deals with wedding plans with Amanda makes a startling offer to Laura (Margot Robbie) to have an "arrangement" within her marriage to Ted (Michael Mosley), so that he may keep both women in his life.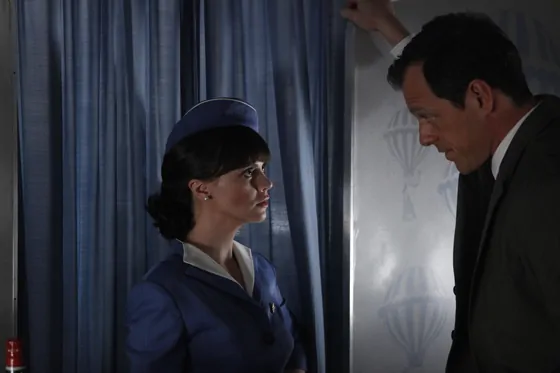 Meantime, Broyles has Maggie act as a mule for some smuggled jewels, and puts her in a life-threatening position — which sparks a major attraction to him. Laura forges on, still loving the man she can't have, and Dean is put on trial for the decisions he made during in Haiti.
Packed with romance, spies, intrigue and adventure, this exciting episode is surely one not to be missed!
The finale is scheduled to air on February 19, 2012. Check your local listings for specific times.
About the author
A Brooklyn-based writer and mom of two, Serena Norr created her original blog Seriously Soupy as a way to learn more about soups and to experiment with new ingredients. She also writes about healthy living, parenting and lifestyle topics on her blog Mama Goes Natural.