This post may contain affiliate links. Read my disclosure policy here.
I love pizza.
Scratch that — I ADORE pizza.  During each of my pregnancies, it was the food du jour for the first trimester.  When nothing else managed to excite my hormonal taste-buds, I could count on a hot steamy pizza to taste good.
These days, pizza is reserved for our weekly "Family Night."  Every Friday evening, I make one of favorite pizzas while my husband wrangles the kidlets, and then we eat, play games and be merry until the late, late hour of 8 pm when all little people must go to bed.
(ahhh, sweet bedtime)
These Whole Wheat Pizza Rolls are an easy way to change up your weekly pizza night — their size and shape make them easy for little hands to hold, and the whole grain flour adds more nutrients and fiber, making them a healthier option to your typical carry-out pizzas.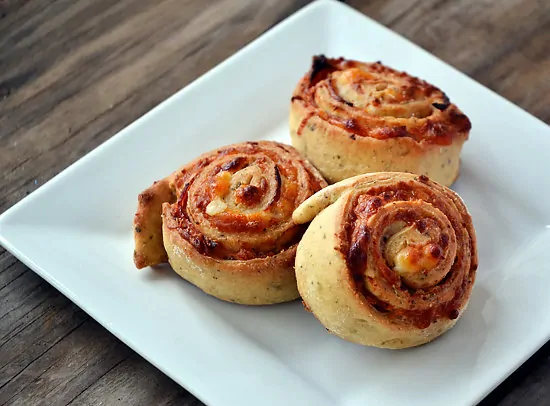 Pin It
Plus, with the cheesy filling of Mozzarella and a bit of Salami, they're just good… especially with a tasty dipping sauce.  I always use some of my homemade slow-cooker marinara sauce, which is the perfect tomato sauce for pizza.
(Swooning just thinking about it!)
Intimidated by the thought of making your own pizza dough?  Don't be!  The dough I use for these pizza rolls (and nearly every pizza variation I make) is practically fool-proof: mix, kneed, roll-out, top and bake.  All in all, it's an easy 20-30 minute process for hot, fresh, homemade pizza rolls.
I like easy.
Does your family have any weekly theme nights for dinner?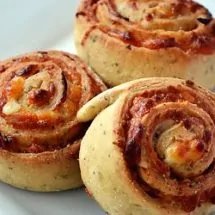 Ingredients
Dough:
1 Cup of warm water
1 Tablespoon of active dry yeast
1 Teaspoon of sugar
1 teaspoon of salt
1 Tablespoon of Italian Herb Blend
2 Tablespoons of Extra Virgin Olive Oil
2 1/2 Cups of White Whole Wheat Flour*
Filling:
1 1/2 to 2 cups of shredded Mozzarella
1 Cup of Salami
Instructions
Preheat your oven to 425 degrees.

In a large mixing bowl, dissolve the sugar and yeast in the one cup of warm water.

Add the remaining ingredients and use a wooden spoon to combine till a soft dough is formed.

Using floured hands, kneed the dough direction in the bowl until it is smooth and pliable.

Roll out the dough on a floured surface until the dough is flattened into a rounded rectangle and is around 1/4" thick.

Sprinkle cheese over the dough.

Down the center of the dough, layer your salami or preferred meat.

Starting at the long end of your dough, roll the dough toward the center -- you do not have to have a tight roll.

Once rolled, cut it into 1 1/2 - 2" slices.

Line your baking pan or cookie sheet with foil and spray with a cooking spray.

Place the pizza roll slices on the pan, allowing room in between each slice for expansion as they bake.

Place in the preheated oven and bake for 12-15 minutes or until the crust is golden brown and the cheese is bubbly.

Serve hot with your favorite pizza sauce.
Notes
*White Whole Wheat Flour is a good way to introduce whole wheat if you're not accustomed to it. It is a lighter variety of the grain and milder in flavor but still has all of the healthy properties of traditional whole wheat.
Written By 5 Minutes for Mom Contributing Editor Rachel Lacy