This post may contain affiliate links. Read my disclosure policy here.
It's getting down to the wire for that dreaded time of year: New Year's Resolutions. Despite our best intentions, most of us seem unable to keep these goals we have set for ourselves! Food Network Challenge and 5 Ingredient Fix host Claire Robinson is available for interviews with bloggers on Friday, January 6th to give you some great tips for avoiding frustration and meetings your New Years goals (without having to give up foods you love, like chocolate)!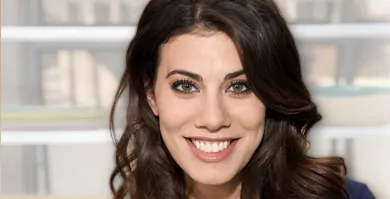 Celebrity chef and Food Network star Claire Robinson offers tips on how to make resolutions that you actually want to keep – everything from how to make healthier eating choices to tips on establishing what matters most for your upcoming year.
Some of Claire's healthy living tips include:
GET EDUCATED TO MAKE HEALTHIER EATING CHOICES – A common mistake is that people make drastic decisions (such as instantly turning vegan) that are difficult to keep. In order to make healthy choices last for the long-term, you must make taste a priority.
GET INVOLVED – Make a commitment to give back to your community, focusing on an organization or project that you feel passionate about to kick off the new year.
CREATE A BUILT-IN REWARD SYSTEM – To reinforce your long-term health goals, you should implement a built-in reward system that allows you to celebrate the small victories and keeps you motivated.
Here are the questions that I asked Claire:
1 – I have always had a sweet tooth, but I am trying to be more conscious of what I eat. How can I satisfy my sweet tooth but keep my healthy-eating goals?

2 – What are some tips to maintain your healthy-living goals past the first month or two of the New Year?

3 – Do you have any recipes that incorporate chocolate that you could share with our readers?
Claire answers my questions in this video just for 5 Minutes for Mom:
Claire Robinson combines her passions for food and television in 5 Ingredient Fix, a Food Network series featuring delicious eclectic recipes made with five ingredients or fewer. She believes the best dishes feature carefully selected fresh foods with distinct flavors and a straightforward cooking style that also promotes healthy and seasonal eating.
Claire also joined Food Network's primetime lineup as the host of Food Network Challenge (as of April 2010), bringing her culinary knowledge and passion for the iconic show to its brand-new set and providing minute-by-minute details of the thrilling challenges.
Note: This post was sponsored by Dove. They sent me a basket of chocolate, too. I decided to share a little with my kids…