This post may contain affiliate links. Read my disclosure policy here.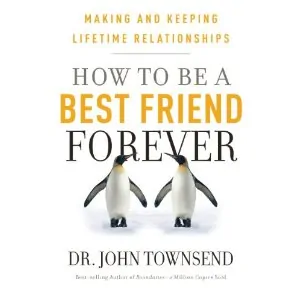 "Do you want to be best friends?" I remember people asking me that in elementary school, and I thought it was kind of weird. Usually my thought was "I already have a best friend," or "I don't even really know you. How do I know you got what it takes to me a best friend?"
Today with so many online connections, including blogging relations, Facebook "friends" from elementary school and beyond, the concept of what a real friend is has evolved to an extent. John Townsend's How to Be a Best Friend Forever: Making and Keeping Lifetime Relationships examines the role of friendship in our lives and challenges us to make more of these vital relationships — both for our own good and so that we can be better friends.
I underlined and starred and folded so many pages in this book. It's a pretty slim volume, and it's completely readable, so for those of you who think "When do I have time to read a book?" don't worry! This is the kind of book that you can get through by reading a chapter or two here or there, and with each chapter you'll find at least one nugget to think about and hopefully apply to your life (see a sneak preview at the excerpt Five Best Friendship Rules to Live By over at 5 Minutes for Books).
Whether you know you need to strengthen your friendships or you feel overwhelmed about maintaining the ones you have, you will find advice and encouragement in this book. There's even a study guide at the back of the book with questions about each chapter to help you pinpoint who your best friends really are and how you can be a better friend to them.
I'm excited that we have a copy to give away, thanks to the publisher (U.S. and Canadian shipping only). Leave a comment here if you'd like to win (and see below for more chances to win). We'll announce the winner in this weekly book giveaway column on Monday January 30.
I've reprinted the Five Best Friendship Rules to Live By over at 5 Minutes for Books. Read them to get a sample of what you'll find in this book. If you leave a comment over there, it will give you an extra chance to win. I've also shared what friendship means to me over at my personal blog Snapshot, and you can also earn an extra entry for commenting over there as well. I'd love to hear what your friends mean to you!
The winner of One Moment, One Morning is #30 Tia.
Original review by 5 Minutes for Books Managing Editor Jennifer Donovan, who loves exploring the themes of friendship at her Snapshot blog.