This post may contain affiliate links. Read my disclosure policy here.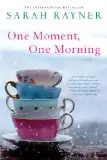 In One Moment, One Morning, Sarah Rayner explores the role of friendship in three women's lives. In one moment on one morning, their lives intersect when 40-something Karen's husband Simon has a heart attack on the commuter train to London. Lou, a 30-something, is on the same car and witnesses it. When everyone has to get off the train, Lou and Anna — strangers — end up sharing a cab and starting a friendship.
(And don't worry that I'm giving away the plot. This all happens in the first chapter).
This one event ties these women together. It also causes them to examine their lives in the wake of Simon's death. Lou is struggling with coming out to her friends and family and realizes that hiding is hurting her. Anna is in her early 40's and in a destructive relationship. Karen is reeling, but the tragedy makes her keenly aware of everything that she does have in her life.
This piece of light women's fiction deals with the unthinkable — the sudden death of a spouse — which is a fear that most of us have, but it's worth reading for the hope and strength that Karen finds as her friends and family help her survive. Rayner's descriptions of each of these 3 women's inner life is right on. She manages to help the reader immerse herself into this situation by experiencing a week or so in their lives, in a way that isn't too cavalier, yet doesn't end up being depressing either.
The interesting London setting also elevates this novel to something worth losing yourself in for a few days.
Thanks to the publisher, I have a copy to give to one of you (U.S. or Canadian shipping addresses are eligible). Leave a comment if you'd like to win.
Did you get an ereader for Christmas? Stock it up by entering to win a Mr. Popper's Penguins ebook.
The winner of Hot (Sweaty) Mamas: Five Secrets to Being a Fit Mom is #82 Kim Smith.
LIKE BOOKS? Subscribe to our 5 Minutes for Books feed or video reviews on YouTube. Follow us @5M4B on Twitter or on Facebook. Check out our current giveaways.