This post may contain affiliate links. Read my disclosure policy here.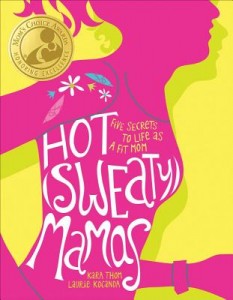 I am one of those people who likes to exercise. Honestly, I need to exercise. It lifts my spirits, energizes me, and makes me healthier and happier. Exercise has been a daily part of my life since my teens, and I never had too much trouble fitting it into my life…until I became a mom. As most of you know, motherhood shakes things up a bit. Fitting exercise into my daily schedule is not as easy as it once was!
Authors Kara Douglass Thom and Laurie Kocanda understand the challenges related to making time for exercise. Not only have they experienced the challenges themselves, but they have spoken with thousands of women about finding ways to be fit as moms. In Hot (Sweaty) Mamas: Five Secrets to Life as a Fit Mom, Thom and Kocanda encourage all moms (those who love to exercise, those who don't love to exercise, and those who have never exercised) to make fitness a part of their lives.
Hot (Sweaty) Mamasdiscusses five "secrets":
You have to train your brain before you can train your body
there are no good excuses
be as good to your body as you are to your children
people can sabotage your fitness faster than a cookie binge
and act like others are watching because they are
In each section, the authors describe specific pitfalls, provide tips and encouragement, and discuss solutions. Each chapter also includes "Mom 2 Mom" sections that provide real-life advice from moms across the country. Thom and Kocanda also include inserts throughout the text that detail examples and illustrations from their own lives. In the final pages of the book, the authors include a supply list, a 28-day fitness challenge, and other useful resources.
Whether you are already a fit mom, or you are contemplating changes as we enter 2012, Hot (Sweaty) Mamas has something for everyone. Thom and Kocanda's love of exercise is evident in this book, but so is their experience as mothers. As much as they enjoy exercising, they realize that it can be a challenge. Through this book, they provide realistic and workable solutions for busy moms who want to be healthy and energized in all aspects of life (and looking better doesn't hurt either!).
Whether you have run many marathons, or you just need a push off the couch, Hot (Sweaty) Mamas is an encouraging and lighthearted read that will get you moving or keep you going in the right direction. As you make resolutions in the coming weeks, be sure to check out the advice in this book. You'll be glad to know there are so many other hot, sweaty moms working with you!
We have one copy to give away (U.S. shipping addresses only). Leave a comment if you'd like to win (or if you need to win). We'll announce the winner on January 2.
5 Minutes for Books reviewer Lauren is a wife, mother of two, and an avid reader. She blogs at Baseballs and Bows.