This post may contain affiliate links. Read my disclosure policy here.
Did you miss the Rick Perry YouTube fail last week? In case you did, here is my post about it from MomCrunch…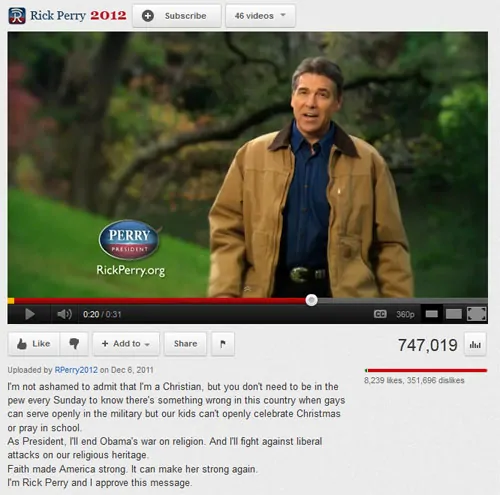 With the release of his "Strong" YouTube campaign video, Rick Perry demonstrates the power of social media with an EPIC YouTube Fail.
The good news? Democracy is alive online — and right now its voice is being heard through the constant clicking of a tiny "dislike" button.
I couldn't even blink, I was so stunned. I stared at my computer screen, trying to sort out if what I was watching was real — if a politician could really release such a polarizing, insulting campaign message.
As a Christian, I wanted to say to Rick Perry, "I am not ashamed to call myself a follower of Christ, but you are making me ashamed to be called a Christian."
I am a Canadian. And I am constantly infuriated by American political parties claiming to have God on their side, using Christianity as a talking point to try to gain voters. I think Obama sits in those church pews too, Rick. And using (or should I say mis-using) Christ to get yourself into office? This Canadian stomach is turning!
Furthermore, as a mother, I am horrified. Yesterday, I posted about Jonah Mowry, a thirteen-year-old boy weeping in a YouTube video about the abuse and bullying he has endured at school since FIRST grade because of his sexuality.
How are we to teach children to not bully gay youth when politicians make sweeping, bullying statements about homosexuals in the military?
Because, according to Rick Perry, allowing a homosexual man or woman to risk their life to SERVE in the military is somehow ANTI-Christian?!? Should homosexual children not be allowed to play on sports teams or participate in school clubs, Rick? Oh — it is just when they become adults that it is ok to discriminate against them??? Oh my word. My head might just explode right now.

CONTINUE READING at BABBLE'S MOMCRUNCH…
Written by Janice Croze, co-founder of 5 Minutes for Mom.
Wanna chat? Find me at: @5minutesformom, @janicecroze and Facebook.com/5minutesformom.