This post may contain affiliate links. Read my disclosure policy here.
Did you get an ereader for Christmas? Or did your child or teen? I predict that's one of the hot gifts of the year. If you did get or give one, I'd love to know which ereader and from whom it came (or was received).
Once you get that ereader, you need to stock it up with titles. The beauty of my Kindle is that I will never run out of books to read! What's more, I make sure that there are titles on there for my kids as well. I keep a good eye out for sales (I bought several titles for me, and each of my 2 kids, for less than $4 a few months ago), and I'm always watching the Kindle Free bestsellers, which include small press and self-published books as you'd expect, but also has backlist titles from authors you love.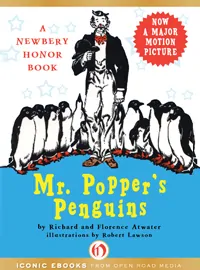 Today I'm proud to feature a wonderful ebook title from Open Road Media. I love the versions of books that I've read from them, including Pat Conroy's The Prince of Tides (they have published most of his backlist), and the Boxcar Children books by Gertrude Chandler.
Mr. Popper's Penguins is one of their newest releases. This is a great movie (sharing very little with the movie except the heart and the name). My son read it last summer before we saw the movie, and enjoyed it. He's a young, high-level reader, so it was perfect for him (a challenge, but no inappropriate content). I'd recommend this book for readers on the 4th – 6th grade levels, but I remember reading it aloud to my older daughter when she was much younger (5, I think).
This book also comes with enhanced features (available on a PC or a tablet that supports this format): extended, illustrated biography of the authors, photos, and two videos from Fox Entertainment: the first is the charming story of how Mr. Popper's Penguins became a book, told partly by the Atwaters' grandchildren, and the second is a trailer of the feature film.
One of you will win a free download of the enhanced version of the Newbery-Award winning Mr. Popper's Penguins. Leave a comment, and we'll announce the winner right here in our weekly book giveaway column on Monday January 9.