This post may contain affiliate links. Read my disclosure policy here.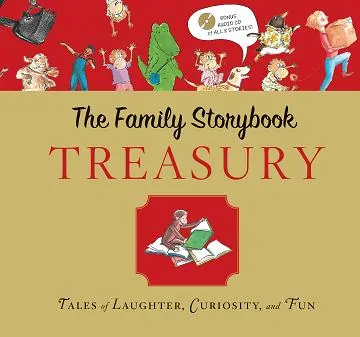 The Family Storybook Treasury is a beautiful treasure to give, receive, and pass down.
Each wonderful picture book in The Family Storybook Treasury is followed by a poem, some a few lines, some in unique sentence structures, and one with a riddle. The poems were perfect for those nights my kids wanted to squeeze in one more story. The audio CD is a delightful bonus with the storybook, each book is accompanied by music and some also have sound effects, such as sirens in Curious George and the Firefighters.
Includes eight complete picture books:
Curious George and the Firefighters by Margret and H. A. Rey
Martha Speaks by Susan Meddaugh
Lyle Walks the Dogs by Bernard Waber, illustrated by Paulis Waber
Sheep in a Jeep by Nancy Shaw, illustrated by Margo Apple
Tacky the Penguin by Helen Lester, illustrated by Lynn Munsinger
Five Little Monkeys Jumping on the Bed by Eileen Christelow
The Great Doughnut Parade by Rebecca Bond
Mike Mulligan and his Steam Shovel by Virginia Lee Burton

From the publisher:
Family, friends, your favorite characters. . .bring them all together at story time! Share the book that is sure to entertain, delight, and make the whole gang laugh. The Family Storybook Treasury is a collection of your most well-loved picture books and poetry, now available in one beautiful keepsake volume with bonus audio CD!
Thanks to Houghton Mifflin Harcourt, we have a fantastic package for one (1) winner (U.S. addresses only):

Copy of The Family Storybook Treasury
Kid-safe headphones
$50 American Express Gift Card to stock up your child's library

Leave a comment to enter to win (U.S. shipping only), and the winner will be announced on December 26 in our weekly book review giveaway column.
Though this giveaway won't be over by then, this is a great gift idea for a family or young child on your list, so consider buying one now, and if you win, you'll be able to enjoy it yourself.


5 Minutes for Books reviewer Nancy loves reading these storybooks to her kids. She writes about her 2 boys, books and life in Colorado at Life With My Boys and Books.