This post may contain affiliate links. Read my disclosure policy here.
Trends come and go, and as a child of the 80s, I'm frequently finding that many of the characters, toys, and shows that I enjoyed as a child are coming back now, just in time for those in my generation to want to reminisce by turning our own young kids onto them. But, then there are those few names that just haven't gone away since our childhoods, staying popular and beloved by children over the years. Richard Scarry definitely falls into this category, and his characters and stories have remained a fixture in young kids' lives for decades.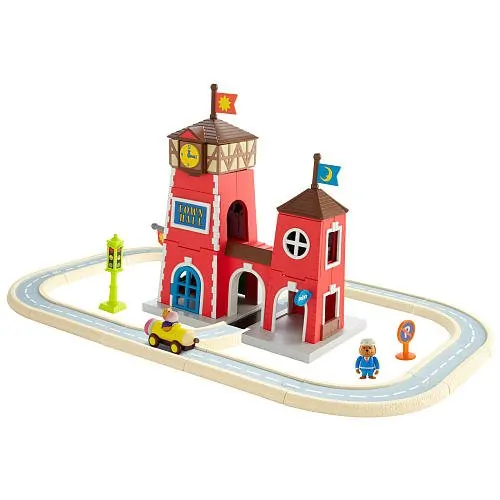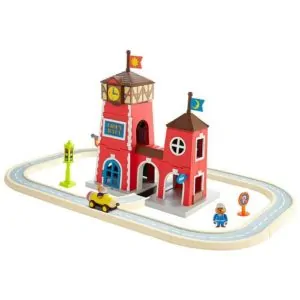 As the holiday season rapidly approaches, parents of young children who love the characters and fun of Richard Scarry's Busytown world should look no further than the Busytown toys, including the Town Hall Deluxe Playset. Sergeant Murphy and Hilda Hippo, along with her yellow pencil car, are included with the Town Hall building that opens up for play on the inside. Twelve connecting roadway pieces can be laid down around the building, giving Hilda a place to drive around, and they are the same style that will attach to most wooden train track systems. In total, there are 19 play pieces in the set, and it can be combined with other Busytown sets to create the entire town!
My kids have always enjoyed using small figures and play sets, and I'm happy to share these characters and pieces with them, since they have a special place in their hearts for Richard Scarry's world. See, while I have some vague memories of Scarry's books from my own childhood, my husband has a much clearer vision of enjoying Busytown stories as a child. He has shared this love with our children, and to listen to him bring Lowly the Worm and Huckle the Cat to life when he reads to them always brings a smile to my face. With that foundation firmly in place, my children will undoubtedly love to act out their own stories with this playset. The bonus DVD with two episodes of Busytown Mysteries introduces them to the characters in a new format, too, while still retaining the unique feel that Richard Scarry first created with his books all those years ago.
Want to share the Busytown Town hall Deluxe Playset and DVD with your own child this holiday season? One lucky winner will receive a playset (retail price: $39.99), along with a copy of a Richard Scarry classic book.
To enter, please leave a comment below letting us know what you love about Busytown. Giveaway open to US mailing addresses only. We'll announce our winner on December 12.
To see more of the Richard Scarry's Busytown products, like them on Facebook!
Sample & Prizing courtesy of Cookie Jar Entertainment