This post may contain affiliate links. Read my disclosure policy here.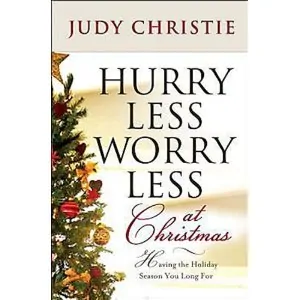 In spring 2001, my husband and I and our 3 kids moved from Oregon to the Islamic Republic of Mauritania, which is located where the sands of the Sahara meet the waters of the Atlantic. (I added that because I know you've never heard of it. Go ahead and look it up. I'll wait here. South of Morocco, yes, that's it.) Our first Christmas was terrible. I couldn't handle the heat and light outside, the fact that no one outside my doors was celebrating, how late the gifts from my mother arrived. I insisted on a live tree and all we could find was a sort of ficus tree, spindly, able to support a single strand of lights and about 4 ornaments. It was elegant but not homey.
Over time, however, I really came to appreciate our desert Christmases. I'll admit that our first year back in Oregon we bought a 10-foot Noble, but I do miss those sparse holiday celebrations, at least now that I no longer have to deal with them. Pared down to the minimum, they made that minimum take on added meanings. We weren't busy and overwhelmed with parties and concerts and school events. I didn't spend days and days baking. Instead, we went caroling round the expat houses, garnering curious stares from kids playing soccer in the dirt. We invited just a few friends. We made our own memories and they were precious as rare items always are.
Now that I've been back in the States for a while, I find myself worrying a bit as we begin to head into the holiday season. I don't want to get overwhelmed, so the idea of Judy Christie's Hurry Less, Worry Less at Christmas appealed to me.
Is a Less-Hurried Christmas possible?
I am thrilled in many ways to be back in the land of stores that carry unlimited supplies of "exotic" items such as molasses, evaporated milk and canned pumpkin, and to have the chance to find presents for my kids that won't break literally within half an hour of their being opened and that they actually want. At the same time, I am appalled to see the rush and bustle, the pressure to spend spend spend, the stores forcing Christmas on us before Halloween is finished as if it is something that must be shouldered immediately. There is a deep cynicism about consumerism that undermines the season as a whole.
This line from page 4 of Hurry Less, Worry Less at Christmas: Having the Holiday Season You Long For jumped out at me:
We enter November with a marathon before us but a sprint mentality. Before the season even gets started, it begins to seem overwhelming. This robs joy from individual occasions.
I underlined that bit about robbing joy. It reminded me of one year when we shared Christmas morning with another family and everyone opened all their presents at the same time. It was horrible! We take turns and everyone watches as one person opens one present. Everyone can see and comment on it. And so even small gifts are recognized and enjoyed.
Hurry Less, Worry Less at Christmas is chock-filled with practical suggestions on how to actually enjoy the holiday season instead of ending it exhausted, broke and resentful of your loved ones. With chapters such as "Whatever Happened to Comfort and Joy? Assessing your holidays" and "Conquering the Clutter of Christmas," Christie offers simple ways to change how you approach this "marathon" season. I found myself eagerly reading her suggestions.
I don't want to get sucked in to excessive busyness this year. I recommend Hurry Less, Worry Less at Christmas for those of you looking
to control your holiday season rather than letting it control you
for ways to say to your mother-in-law that you don't want to host Christmas brunch
for ways to let your kids know that things are going to be slower, smaller and deeper this year.
It's a great resource.
You can win
I'm very pleased to announce that one of you can win a copy for yourself! Just leave a comment below to be entered to win. We'll announce the winner here in this column on 11/28.
You also have another chance to win a copy. Read Jennifer's thoughts on the books at 5 Minutes for Books and enter to win a copy over there.
Christmas in Morocco
I am linking some of my holiday posts from my personal blog for those who are interested to see just how different it is:
*This post is a part of a sponsored campaign with Abingdon Press, but I have not been told what to say. My opinion is my own.

5 Minutes for Books staff reviewer Elizabeth spent nearly 10 years living in North Africa. She currently lives in Oregon with her husband and 3 teens. Read more at her blog Planet Nomad.