This post may contain affiliate links. Read my disclosure policy here.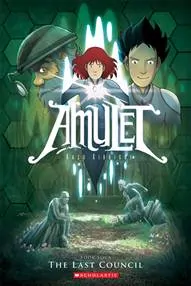 Amulet is a graphic novel series designed for middle-grade readers. In the prologue for The Stonekeeper (Amulet, Book 1), Emily and her parents are in a terrible car accident while on their way to pick up her little brother, and her father dies. Fast forward a few years to when her mother decides to take the 2 children to live in an old family home in the country. The house belonged to the children's great-grandfather who mysteriously disappeared many years earlier. No sooner have they arrived when Emily finds a mysterious amulet that fastens itself around her neck, from which issues a mysterious voice that tells her to protect her family. That night, noises from the basement send her mother down to investigate, where she is kidnapped by a strange squid-like creature and taken away to the land of Alledia, where great adventures await them all.
The children of course follow, and find themselves in a house that replicates the one they just left behind, which is populated by strange robotic creatures built by their great-grandfather. Emily soon begins to learn more about the strange power of the amulet. The first book lays the groundwork for the base, but in the second book things begin to really happen. Emily gains a helper and learns more about the parameters of the stone; she has to learn to control it or it will control her. She learns some of the history of Alledia, and begins to see that there may be more to her calling than simply helping rescue her mother and brother.
This series would be good for reluctant readers, both boys and girls. There's lots of fighting, a powerful but evil Elf King who is out to kill the children and gain access to the amulet's power, underground resistance fighters, anthropomorphic creatures, mysterious curses, and lots more. Although I've only read the first two, Scholastic has just released the fourth in the series, and it looks good. You can watch the book trailer to get a detailed look at this magical story:
I wanted my son Abel to read the books and tell me what he thought, since he's a graphic novel fan. Here's what he said:
Amulet is a fun graphic novel series with cool characters and a good storyline. It's meant more for younger ages but I still enjoyed it. I'm 14 and I like graphic novels a lot. Leon the Bounty Hunter is a great character—he's a great fighter but he's also wise. He's a fox. I recommend these books.
You can find out more and check out some cool extras at the Amulet site.

We're pleased to announce that 3 of you will win copies of Amulet #4: The Last Council PLUS a $25 Visa card to buy more graphic novels for the young readers in your life (or for yourself; I won't tell). Enter to win by leaving a comment below. We'll announce the winners on November 14.
The winners of the hilarious marriage manual If It Was Easy. . . . are #83 Stacey and #84 Amy.

5 Minutes for Books staff reviewer Elizabeth admits that even if she had a powerful stone she would probably use it on something disappointingly prosaic like laundry. Read more at her blog Planet Nomad.