This post may contain affiliate links. Read my disclosure policy here.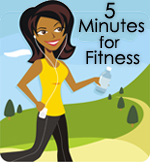 Health professionals recommend getting 10,000 steps per day for fitness. Do you know how many you are taking?
One of my favorite exercise tools is my pedometer, which only cost $15. I clip it on my pants first thing in the morning and wear it everywhere I go. With my pedometer, I make sure I reach the 10k minimum on most days of the week.
Here are a few ways to get those extra steps in your day:
*Find a walking buddy and make a date to walk together.
*Avoid escalators and elevators, always take the stairs.
*Park in the farthest spot away from the building or store. Not only will you get more steps, but it is less likely that you will get any door dings.
*If the weather is too cold for you, most malls open up early for walkers. There won't be any crowds and you won't be tempted to spend money.
*Don't use the remote control, get up to change the TV channel instead.
*Have a parade with your kids and march around the house.
How do you get 10k steps in your day?

This column is hosted by Lisa. She can be found doing squats and lunges over at Workout Mommy.