This post may contain affiliate links. Read my disclosure policy here.
*** VOTE ON THE FINALISTS NOW ***
The economy right now is no fun. Trying to stretch the budget to cram in enough groceries to feed our families? Definitely not fun.
BUT, as moms we don't have the option to give up. We need to find ways to survive — and have fun while we are doing it! Life is in the journey and we must ensure the journey is fun for our kids.
So, we are going to have some FUN with FOOD and celebrate our families in this Food Themed Photo Contest sponsored by Prego®.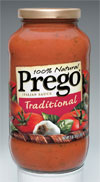 Prego® understands that it can be hard to make delicious and nutritious meals at home on a budget, but with their variety of Italian Sauces they want to remind you that you can whip together dinners that taste great and help you save money in the grocery aisle!
Here is a fun home cooking tidbit: Did you know that replacing one restaurant trip per month with a homemade pasta and sauce meal can save hundreds of dollars per year? For example, for a family of four to eat at a restaurant could easily cost $50, but a complete pasta and sauce meal can be as low as $10. $40 savings x 12 months = $480.
Check out some fantastic, low cost, healthy recipes at Prego.com like the recipe for these Prego® Porcupine Meatballs.
From: Campbell's Kitchen
Prep: 15 minutes
Cook: 20 minutes
Serves: 5

Rice-studded turkey meatballs simmer to tenderness in Prego® Traditional Italian Sauce.

Ingredients:

1 lb. ground turkey
2 cups cooked regular brown rice OR regular long-grain white rice
1 egg
3/4 tsp. dried oregano leaves, crushed
1/2 tsp. garlic powder
1/4 tsp. ground black pepper
1 jar (1 pound 10 ounces) Prego® Traditional Italian Sauce OR 1 Prego® Tomato, Basil & Garlic Italian Sauce

Directions:

Thoroughly mix the turkey, rice, egg, oregano, garlic powder and black pepper in a large bowl. Shape the mixture firmly into 25 meatballs.

Heat the sauce in a 12-inch skillet over medium heat. Add the meatballs and heat to a boil. Reduce the heat to low. Cover and cook for 10 minutes or until the meatballs are cooked through.

Serving Suggestion: Serve with a Caesar salad and sautéed broccoli rabe with garlic or broccoli flowerets. For dessert serve oatmeal raisin cookies.

Nutrition Information:

Calories 375, Total Fat 13g, Saturated Fat 4g, Cholesterol 114mg, Sodium 758mg, Total Carbohydrate 40g, Dietary Fiber 5g, Protein 21g, Vitamin A 13%DV, Vitamin C 5%DV, Calcium 5%DV, Iron 15%DVusing Prego® Tomato, Basil & Garlic Italian Sauce Calories 345, Total Fat 11g, Saturated Fat 3g, Cholesterol 114mg, Sodium 595mg, Total Carbohydrate 38g, Dietary Fiber 5g, Protein 21g, Vitamin A 13%DV, Vitamin C 3%DV, Calcium 5%DV, Iron 15%DV
Now, on to the Photo Contest FUN…
This contest is about celebrating our families through our FUN with FOOD photos. The winner will receive a $500.00 grocery card for a grocery chain in their area.
The photos can be anything to do with food – kids with food, animals with food, you with food – whatever you can dream up. Just have fun! 🙂
To get you in the mood, here is a shot of Olivia with her very first taste of cake.
This shot was from her birthday, a week before Olivia and Sophia had their First Birthday Party. Olivia had never tasted icing, cake or anything like it before.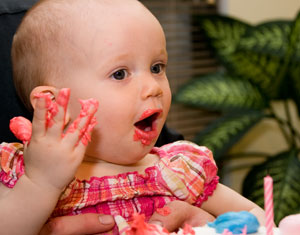 She was quite impressed!
How to Enter
Here is how our "FUN with FOOD" photo contest/carnival will work:
For the next two weeks, we will accept entries. We are looking for photos that are fun, family and food related. Entry deadline is Friday, November 14th, 3pm Eastern.
If you are a blogger, post your photo on your site and then come back here and add your link to the Mr. Linky. In your post on your blog, you can explain that it is a part of this contest and link back here.
If you are not a blogger – you can still play!!! Just email us your photo, with the subject line FUN with FOOD Photo Contest, to 5minutesformom @ gmail dot com. (Please add your image into the copy of the email so that we do not have to open attachments.)
Please enter only one photo in the contest.
We will post the finalists on Monday, November 17th. We will use Democracy Poll for readers to vote on their favorite photo. Please Note: Democracy Poll only allows one vote per IP address.
If you are selected as a finalist, feel free to announce it on your blog, facebook, twitter, etc and get your friends to vote for you. That is fair game. But please play fair and do not use proxy servers or other black hat methods of increasing your votes. If we do discover unfair practices, we will have to disqualify the parties involved. Remember the spirit of our site and play nice!
Voting will end Friday, December 5th, 3pm Eastern. We will announce the winner the same day!

This contest is open to US and Canadian shipping addresses.
Representatives for Prego will supply the winner with a grocery card for a grocery chain in their area, in the amount of $500. If they are unable to secure a grocery card that works for the winner, they will supply a cash card for $500.
Ready… Set… Go!
*** VOTE ON THE FINALISTS NOW ***
Add Your Photo Entry Blog Post Link Here
*** VOTE ON THE FINALISTS NOW ***