This post may contain affiliate links. Read my disclosure policy here.
It isn't often that a girl can find a pair of 3 1/2 inch heels that are actually comfortable. In fact, the mere thought of 3 1/2 inch heels makes me long for my Crocs. (Yes – I am one of those moms that runs around in jeans and Crocs or flip flops.)
The irony is – these sexy, high heels are made by Crocs.
Yes, Crocs are transforming Croc-comfort into high fashion!
Check out these gorgeous shoes and boots. Just delicious, aren't they?
The Italian designed YOU by Crocs line features a combination of leather, suede and lambs wool, as well as Crocs's plastic resin on the soles.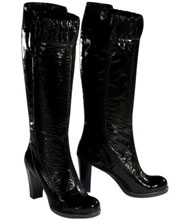 I tried out the Fabulous Fashionista boots and they are fabulous! Despite towering higher than I have dared in years, I am surprisingly comfortable in them.
I got an 8 1/2 instead of just an 8, (I vary between the sizes depending on brand and style,) just to make sure they weren't too small. I find with boots, I like them to not be too tight. The 8 1/2 boots are a little roomy for me, so I put in a gel insole in the front. This helped make them even more comfortable, since my feet aren't used to being up on such high heels.
Also, in case you have small calves like I do, mine are a little loose around the leg on me. If you have a problem with boots being too tight around your calf, then these will probably work great. Since I wear mine with jeans and pants, I am not too worried about them being a bit big.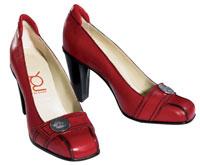 I also loved these Daring Duchess pumps.
I had a hard time choosing between the Fabulous Fashionista boots and the Daring Duchess pumps. I may have to buy a pair…
If you want to win a pair of YOU by Crocs shoes or boots, just leave a comment on this post letting us know which pair you would like.
You can choose from any of the following pairs.
Fabulous Fashionista, Highball Lambswool, Impossible Girl, Mischeivious Minx, Racy Rocker, Shaken Not Stirred, Sidecar Patent Leather, Sophisticated Mama, Twisted Tart, Daring Duchess
We have TWO pairs to giveaway. We will announce the winners November 22nd. This contest is only open to US shipping addresses.
AND if you want another chance to win, head over to Kailani's An Island Life and enter her YOU by Crocs contest too! Yes, we are having some cross-post contest fun today.