This post may contain affiliate links. Read my disclosure policy here.
Our blogging friend Cath from Constance Reader writes today about tackling a fear.
Facing a fear
A few years ago, I was in a car accident. The car was ruined but except for a few aches and pains that lasted a day or two, I escaped unscathed. Physically, that is…the emotional turmoil of that event has lingered with me. I've driven since then, but only when my husband J.D. is in the car with me, only on short jaunts to the store up the street, only during the day. I've always been too afraid to do try anything more.
It's a big hassle. I spend a lot of time waiting for the Metro, the bus, bumming rides and offering to chip in for gas money, like I did in high school. J.D. has to run the majority of our errands and that's a strain on his time. It seems like every week, we put it on our to-do list, we sit down and draw up a plan to work up to me driving again. We'll start with J.D. in the car and we'll only go a short distance. The next day we'll go farther and even farther the day after that…
But then we get busy. And so we've never gotten as far as the day where I drive somewhere all by myself.
Earlier this week, I was working on another item on my to-do list, sorting through my vast store of books, deciding which to donate, which to keep. Of course I had to stop and read a little of each one I pulled off of the shelf. I pulled down a book that I read and enjoyed a few years ago and flipped through the pages, lost myself in it for a little while. And I came across this sentence:
"I have not ceased being fearful, but I have ceased to let fear control me." — Erica Jong, What Do Women Want?
In that moment, I made a decision. I decided I was tired of the fear, tired of the inconvenience. I grabbed the keys and hollered to J.D. to watch the baby. I went downstairs, out to the driveway, got in the car and turned it on. And then I drove to the grocery store. I browsed the aisles and bought the fixings for arroz con pollo, my favorite dinner. I got back in the car, and drove through the Starbucks drive thru for a latte with all the trappings. I took the long way home, pulling over to take a picture of the beautiful autumn foliage that managed to survive our weekend snowstorm, to memorialize the moment for myself, so that I wouldn't forget it.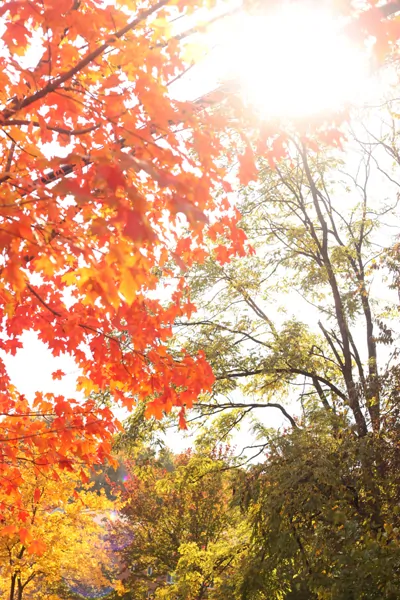 When I arrived back at the house, I felt like a different person from when I set out.
My official to-do list is still a mile long. I didn't clean the bedroom closet or pack away my daughter's nine-month-old clothes. I never finished with the books, and they're still strewn everywhere. But all in all, I am calling this week a success. Because this week I faced a fear. I ceased to let fear control me. And that is no small thing.