This post may contain affiliate links. Read my disclosure policy here.
Dwan Perrin, author of MommaDJane, has a nice camera but has never taken a photography class to improve her skills and move out of auto mode. She is guest posting today with an amazing opportunity for fellow 5 Minutes for Mom readers.

Something to check off my "Life List"
I love taking photos. I would say photography is a fun hobby of mine even though I'm a complete amateur. I just enjoy documenting our family memories and looking back at how much my kids have grown over the years. I consider myself a very active person and I travel often so taking a lot of photos at events and on our journeys is an exciting way to be reminded of all the things we've done together.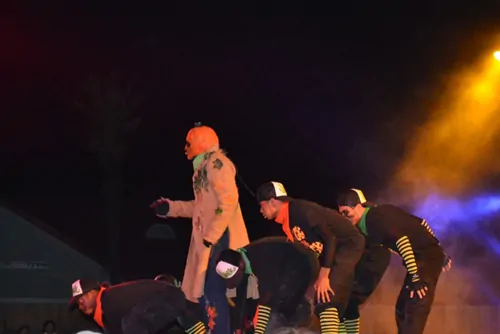 Even though I own a nice DSLR Nikon, I've never taken any photography classes and the auto setting is my best friend. Last year I finally added 'take a photography workshop' to my Life List to encourage myself to take a little time out for my own hobbies, at least once.
I find myself wanting to take photos at night often. Anytime I take the kids to a theme park, whether it's Sea World or Disney World we stay there past the sun going down. If you have ever been to Disney World at night you know how beautiful the park is with all the gorgeous lights and the fireworks show. Even with my camera on the auto setting it's extremely difficult to capture that best shot. The image never quite looks like the scene you remember seeing. Shooting without a flash can cause it to be blurry or too dark, with a flash can cause it to wash out the scene and hide the true colors of the lights or fireworks. I can take 50 photos before getting one to look descent.
The same goes for Christmas lights….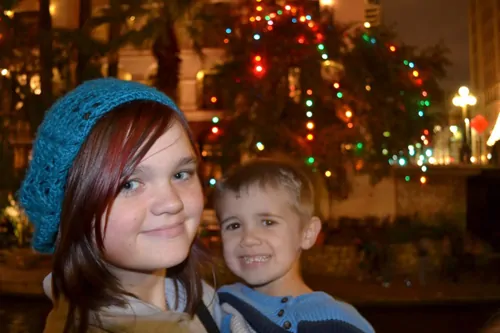 I'm excited to take Kent Weakley's Night Photography eClass. The fact I'm most pleased with is he allows 60 days to go over his course material. No need to sit at the computer for three hours trying to cram all the knowledge at once. You can take it all in a little at a time. Learn one step, go out and test it on your camera and then come back for more.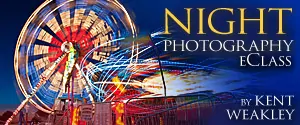 I'm a hands on learner so I have to try what I'm learning in order to get it and for it to truly sink in. Just listening in a class and going home with 'notes' won't work for me. Kent Weakley understands how photography works and knows it takes time to get that perfect photo which is why he allows extra time for learning.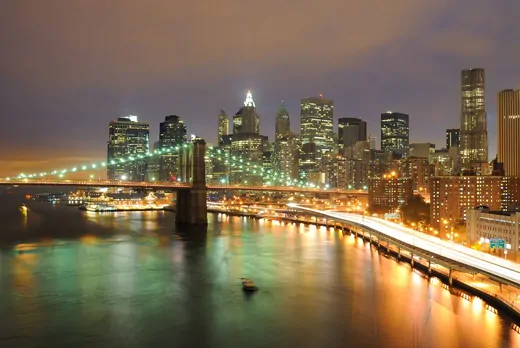 Win a seat in Kent Weakley's Night Photography eClass
The best thing about all of this is I get to take one of you with me to the photography class. Okay, maybe I don't take you with me but you get to enjoy learning all about Night Photography from the comfort of your own home right along with me in Kent Weakley's eClass.
Entry is simple. Just leave a comment on this post sharing a past experience taking a photo at night gone bad. Let us know why you need Kent Weakley's Night Photography eClass just as much as me.
This contest will end on Wednesday, November 16 at midnight ET and a winner will be notified on November 17 with details on attending the eClass. This is open to anyone who can access kentweakley.com – easy!
Written by Dwan Perrin, a single, work from home mother of three and author of MommaDJane.com
Brooklyn Bridge image from 123RF Stock Photos. Christmas lights image by Dwan.