This post may contain affiliate links. Read my disclosure policy here.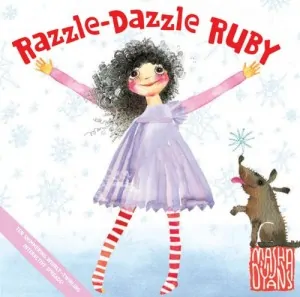 Growing up in New England, I have many childhood memories that involve playing outside in the snow. While I may never have been really great at the snowman building, I did have a whole lot of fun trying to make igloos with my plastic snow brick maker. Looking out on my backyard suddenly transformed overnight into one huge snowy canvas always brought a magical feeling. For adults, though, snowfalls often translate into headaches in the form of crazy traffic, power outages, and inconveniences. Too bad that we often miss out on that joyful reaction to the snow that children instantly experience. For parents of young children, perhaps sharing Masha D'yans gorgeous new interactive picture book Razzle-Dazzle Ruby will help the magic come alive again.
Now, it's not every day that a new book gets an endorsement from Eric Carle on the back cover, but Razzle-Dazzle Ruby receives this incredible honor, and it's one that is well-deserved. When Ruby awakens to a snow-filled outdoors, her imagination immediately jumps into action. With her scruffy puppy pal Rocket by her side, she's ready for an adventure that sees her as a snow queen and Rocket as her "knight in barking armor." Soon enough, she meets up with a friend who shares in her skating, snow angel-making, and sledding fun. By the end of the day, Ruby is ready to head home, but she's already got plans brewing for the next day's play!
Ruby definitely lives up to her Razzle-Dazzle name, both in spirit and in appearance, with her stripey tights, fluffy winter coat, and brightly colored scarf and hat. Throughout the book, children can share in the Razzle-Dazzle as well, for each page includes a special pull-tab, rotating wheel or pop-up feature that only heightens the magic. Want to see the book in action for yourself? Check it out:
Would you like to win a copy of Razzle-Dazzle Ruby and bring the magic of a snowy day's adventure to a child in your life? Two lucky winners will receive a copy of the book, along with a $25 Visa Cash Card and a pair of red and white striped tights! Please leave a comment here to be entered– we'd love to hear about your own childhood snowy adventures! (US mailing addresses only, please.) Winners will be announced here on 11/21.
The winners of Running Away to Home are #14 Tami M. and #15 Idaho Jill and #31 ibeeeg (#4 from the extra entry at 5M4B).
5 Minutes for Books staff reviewer Dawn splits her time teaching preschool, parenting three wacky kids and occasionally blogging at my thoughts exactly.