This post may contain affiliate links. Read my disclosure policy here.
I love to travel. I love to travel with my husband which gives us the opportunity to reconnect with one another while discovering new people, new foods, and new sites. I also enjoy traveling with my kids, watching them try new things and experience things that help reinforce what home is for them. I dream about an extended getaway where we could totally immerse ourselves into a different world.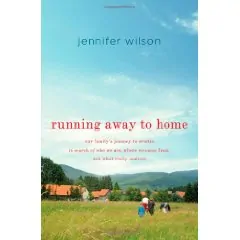 Running Away to Home: Our Family's Journey to Croatia in Search of Who We Are, Where We Came From, and What Really Matters is Jennifer Wilson's memoir of the year that she spent with her husband, 7-year-old son and 4-year-old daughter in her ancestral home of Mrkopalj, Croatia.
Jennifer's quiet humor makes it an easy and entertaining read, even as she recounts the darker times — her discouragement about fitting in (which you can read more about today in our 5 Minutes for Books On Reading column), her frustration with the difficult Croatian language, the lack of ready information about her ancestors.
It's an eye-opening read, one that strikes a chord in me — a desire to get away from it all and do something completely new, to reconnect with my past and figure out my future. I envy her freedom and guts, and since I know it's unlikely I'll ever do it, I enjoyed being able to follow along.
How about you? Do you long to find out more about your ancestors? To take a break from the "American Dream" that has us all running in circles? To hunker down with your family to see what you're all made of?
We have THREE copies of Running Away to Home to give away (U.S. and Canada shipping addresses only). Leave a comment if you'd like to win. You can also leave a comment on the excerpt posted at 5 Minutes for Books today for an extra chance to win. We'll announce the winners right here on November 7.
The winner of If I Have to Tell You One More Time is #20 Vilmarys.
Original post by 5 Minutes for Books managing editor Jennifer Donovan