This post may contain affiliate links. Read my disclosure policy here.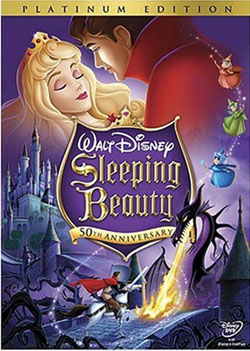 On October 7, 2008, Disney's vault opened to release the beloved classic, Sleeping Beauty, for a limited time.
Restored to dazzle new fans with its pristine picture and sound quality, the final fairy tale to be produced by Walt Disney himself, the Sleeping Beauty Platinum Edition is a spectacular widescreen event that transports viewers to a magical kingdom.

Filled with romance, adventure and humor, the beloved animated classic's 50th Anniversary release celebrates the exhaustive work of The Walt Disney Studios Restoration and Preservation team who have successfully mastered the meticulous processes of creating stunning technologically-advanced Hi-Def productions from classic footage created by Walt Disney and his team in the first golden age of animation.
Many treats await Disney fans, as the Sleeping Beauty release marks the first-ever Disney Classic Feature in High Definition. This is also the first Platinum Edition release in which the Blu-ray version will also include the standard DVD version of the restored film.
With the holidays around the corner and many families looking to upgrade to Blu-ray in the coming year, fans can pick up a Blu-ray edition of this Disney classic and still enjoy the fully restored film on DVD while waiting to upgrade to spectacular 1080p Hi-def Blu-ray and experience the exciting BD-Live Network.
We also have some fun treats for your little prince or princess. You can make your own Sleeping Beauty character mask or pumpkin carving stencil.
You can also click on the maze below, for a larger printable version.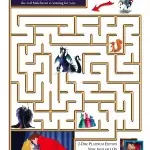 And for the best treat of all, we have 2 copies of the 50th Anniversary Platinum Edition of Sleeping Beauty to give away. If you would like to win, please leave a comment below. We will choose our winners on Saturday, November 8th.